Find the Best Loafer for You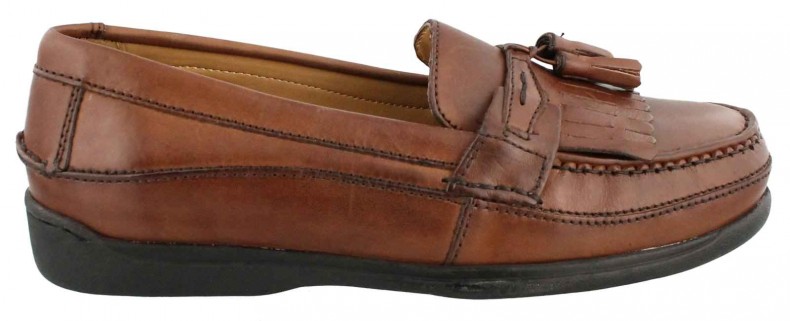 Long gone are the days of only wearing loafers as casual attire during the winter. With the advancements of fashion and flair, loafers have found their way into every season and style. But how do you know which loafers are for you? There are a few things to consider when choosing the right loafers to complement your style.
Different Occasions, Different Approaches
Though there is a way to incorporate loafers into every outfit, there is a proper way to do so. Your choice is particularly important when you are pairing them with a nice suit. With a suit, you want to stick with a more rounded-toe option. You should also choose a refined material, such as leather or suede. On the other hand, if you are pairing the loafer with a casual summer outfit, you can pick a more rustic, traditional material and lose the socks. If you are wearing long pants, roll the cuff up a bit to show off your shoes, especially if you are sporting a nice pair of men's tassel loafers.
No Need to Break the Bank
Your budget should not stop you from rocking the latest trends. If you have the ability to invest in high-quality loafers, they can last you for years to come as long as you have them resoled every once in a while. However, if you are pinching pennies or a frugal shopper then there is no shame in getting a nice pair of penny loafers, which look just as nice as their more expensive counterparts. Also, it is not critical to have several different pairs; if you carefully select a few different loafers that are versatile you will be set. It is a great idea to choose either neutral colored and themed options, or oddly unique ones that will stand out in the crowd.
Do Not Listen to the Hype
There are several different fashion "rules" that have been in place for years that people have followed to the tee. However, as the times have changed, so have the fashions, and there are new rules in play. In the end, it is important for you to be your own person and wear what makes you feel your best. New fashions are only created by people who are audacious enough to do their own thing. So be bold, be innovative, and be you.
If an outfit was a sundae, the loafers and accessories would be the cherries and sprinkles on top. Having the proper shoes speaks volumes about the type of man that you are. Make sure that you are accurately presenting yourself by choosing and pairing your shoes correctly. Know the right type of loafer for each occasion, maintain a versatile collection, and do not be afraid to express yourself. Then you will be well on your way to tasteful stylistic expression.