Despicable Me 2 Movie Review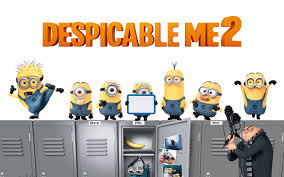 I loved this movie and both my daughters loved it even more. It is AS GOOD as the first part, therefore this review follows the main lines of my review of the first "Despicable me". This review contains very limited SPOILERS.
1. Hilarity – Exactly as the first film, this sequel is HILARIOUS! There is hardly any 15 seconds in this movie that would not contain a really good gag, children or/and adult oriented. Whoever wrote the scenario was a genius!
2. Despicability – in this film Gru is a little bit different from what he was in the first part. He is no more so grumpy, mean, petty and permanently aggravated – he certainly smiles more and all his attitude softened. He remains however exactly as insecure as in the first film. That being said, there are moments in this film when the old Gru resurfaces, when his heart is broken or when somebody REALLY upsets him. His geriatric sidekick and only friend (well, kind of) doctor Nefario didn't take all this change easily and he has some trouble to adapt his evil laboratory to new tasks of producing jam and jelly… Gru's murderous (and toxic) dog/rat/wolverine/skunk like pet on another hand felt completely under the spell of the girls – but still gives a great show! The two "bad guys" are also excellent – which is a real achievement, considering that one of them belongs to species usually not associated with evil villainy…)))
3. Girl power – as in the previous film, I believe that any parent of little girls will fall immediately in love with Margo, Edith and Agnes, the three little orphaned sisters Gru adopted in the first part. Those seemingly defenseless creatures took him since under the sweet and soft but in the same time surprisingly totalitarian control little girls exercise over their fathers, adoptive or not…))) Agnes, the youngest of the three (I think she is 5) is still particularly sweet – if only she was real I would adopt her on the spot and spoil her silly all the rest of my life! Tomboyish Edith, aged around 8, still wears permanently her pink hat which seems to comfort her, but as you will see, she certainly recovered from her previous traumas…))) Margo, the oldest one, is now a young teenager (she is about 13 I think) and starts already to think about boys, something which TERMINALLY freaks Gru out – and I can relate here! Honest, if you already are a parent of a little girl, you WILL LOVE this movie. And if you do not have yet a young daughter, get one!
4. As in previous film, as far as reasons to watch this movie go, even the girls must cede the first place to the minions! The totally devoted, fearless and highly professional and in the same time impossibly immature and conflicted army of Gru minions is THE greatest treasure of this movie. In this film there is even more minions and believe me – they pack incredible fun! I am very impatient to see their own film (which I believe will be released in 2014).
5. Agent Lucy Wilde, a young rising star in the Anti Villain League, is a new element and a new delight added to this film and her character is a great success. Well trained in martial arts and using some extremely cool gadgets, she is also a mixture of perfect lady and a tomboyish, contagiously enthusiastic adventurer, still lacking a little bit of experience and therefore prone to attack first and ask questions later…))) And she is also cute, which certainly doesn't hurt.
I purposefully omitted in this review some of the characters and did not hint at most of the gags and scenes, to avoid big spoilers and keep things short.
To conclude, this is a TREASURE OF A MOVIE. A thing to see in cinema, then buy on DVD, watch, keep and re-watch on regular basis. And I ABSOLUTELY hope for A SECOND SEQUEL!