Should You Choose a Destination Wedding?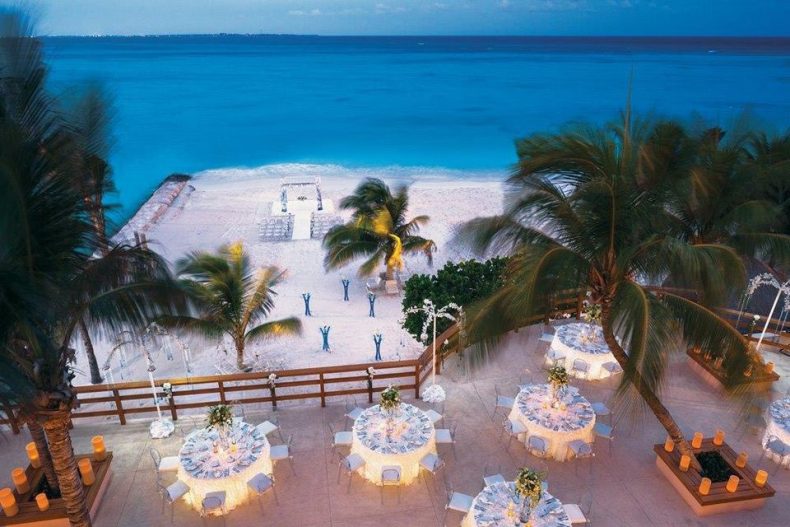 Your wedding will be one of the biggest days of your life — if not the very biggest of all. But before you can reach the altar, there are a lot of details to work out. Planning a wedding can be stressful, and you won't even be able to get down to the nitty-gritty details until you've nailed down the big questions. You already know who, what, and (hopefully!) why, but there's one classic question that will loom large as you begin your planning: where?
Deciding where to get married can be a real pain. Devotees of old-school wedding etiquette will tell you that you should get married in the bride's hometown, but that's becoming less and less practical in our modern era. There's a good chance that you and your fiancé met somewhere besides that hometown, live somewhere besides that hometown, and have a big social life somewhere besides that hometown. There's no guarantee that the classic choice will be remotely convenient for anyone — even the bride's own family, who may not even live there anymore! But trying to choose a different location can get stressful fast. Sometimes, you'll just want to throw up your hands and throw a dart at the map.
Enter the destination wedding: The ultimate alternative location for your nuptials. Without tradition to tie you down, why not choose to get married somewhere that you've always wanted to go? Why not turn your wedding into a real vacation for you, your betrothed, and your guests? Why not find the most picture-perfect, beautiful place possible?
Reasons to choose a destination wedding
One of the big perks of a destination wedding is the ultimate compromise between all your friends and family. When the bride's family is in Texas, the groom's family is in Los Angeles, and the happy couple-to-be lives in New York City where they have a ton of friends, the wedding location decision will be a fraught one. It will be very easy to upset people that you care about. When you opt for a destination wedding in Patagonia or a similar location, everyone will be traveling — and everyone, hopefully, will recognize the merits of the place they are going to. Eliminating the chance of regional spats between family and friends is a great reason to choose a destination wedding.
Another reason is, of course, the fact that you'll get to choose your dream wedding location. Unrestricted by geography, you'll be able to find that perfect beachside location or get married at the foot of majestic mountains.
Destination weddings tend to have smaller guest lists — planning a huge destination wedding can be difficult for a variety of reasons, as we'll talk more about in just a moment — but that can be another reason to choose one. A destination wedding will tend to be an intimate affair, and the smaller guest list can be a help as you seek an affordable wedding reception venue.
What you should know about having a destination wedding
A destination wedding is a beautiful choice, but it's not for everyone. Even the most gung-ho fans of destination weddings should keep a few things in mind.
If you have a destination wedding, you'll most likely have to limit your guest list. Getting big blocks of hotel rooms will be tougher in Hawai'i than in your fiancé's Kansas hometown, after all, and wedding venues may be more expensive in such beautiful locations.
You also will need to recognize that not everyone can afford to travel for your wedding. Be gracious with those who choose not to attend. Remember that travel costs may lead some to be less generous with their wedding gifts than they might otherwise be — as always, your gratitude should not be affected by the amount of the gift. Of course, you should remember that travel will likely be an issue no matter where your wedding is — and that a destination wedding can make things more fair.
A destination wedding may also represent a planning burden, since long-distance wedding planning can be tough. On the other hand, you may find your tasks simplified by the all-in-one wedding packages available in some locations.
Only you can decide if a destination wedding is right for you, or where your ideal destination will be. But it's something that every modern couple should consider.