The last couple of months I have noticed a huge jump in CBD content when it comes to in all sorts of fields. Yes, this even includes for your pets. From small animals to large, the CBD craze has become a hit in many places around the United States. You can find classic foods like popcorn, and mac & cheese being infused with CBD extracts. Compared to it's counterpart THC,  Cannabidiol better known as CBD  has no psychoactive properties. Meaning your pet will not be catching any kind of intoxicating effects from indigestion. Cannabidiol acts more towards depression, and anxiety. In some cases it has been recorded to help conditions as severe as multiple sclerosis, and epilepsy. Having discovered so many benefits of the nonintoxicating cannabinoids. It's no wonder everyone is hopping on board. It is important to note, that the CBD extract is derived from the hemp plant, and not the marijuana plant.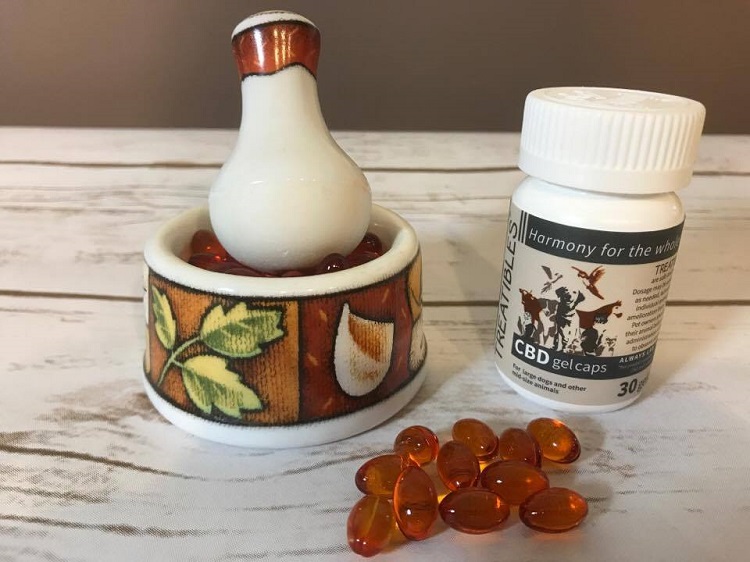 With all that being said, I am more then happy to introduce you to Treatibles CBD Gel Caps!  A CBD Gel Cap to help Mid-Large sized animals. In my case I have been providing it to my dog Hatchi. The team at Treatibles uses a CO2 process for extracting their CBD's from the Hemp plant. All products at Treatibles are lab tested, to guarantee they contain virtually no THC . I'd recommend these Treatibles CBD Gel Cap 10mg for anyone whom has an animal that suffers from chronic, and acute diseases. A lot of studies lately have shown that Cannabidiol (CBD) can help with ailments and discomfort in our animals. The CBD Treatibles may be able to help manage forms of arthritis, chronic pain, skin conditions, issues with appetite, all the way tumors. This is not in any case a cure for your pets. It is simply available to help manage the systems they may have.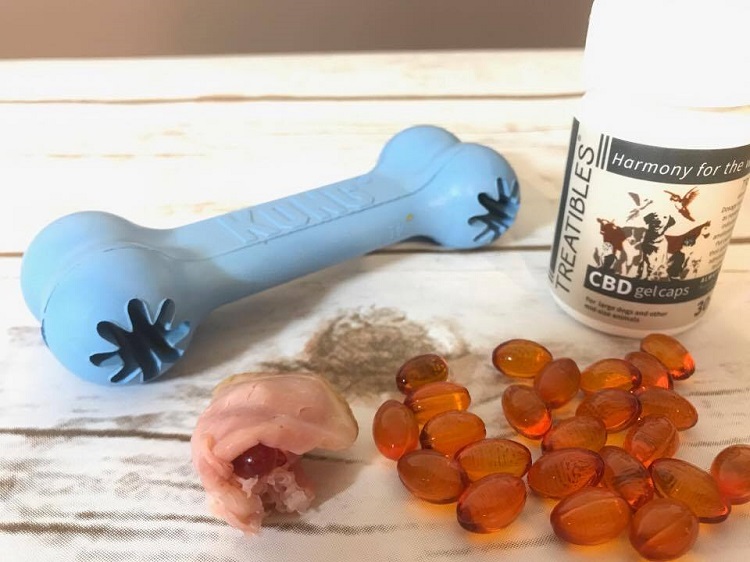 Try to think of different ways to provide your animal the gel caps. I folded mine into treats to ensure indigestion.
It is recommended by to distribute 1 Treatibles CBD Gel Cap per 100lbs. They suggest you watch your pet for signs of relief. If you don't see any changes in an hour you can minister another dose. Signs of relief can be seen from 5 minutes to an hour of time. However, if you are like myself when it comes to your pets. Then you know time isn't a factor, as long as they can find some relief. Almost nothing feels worse then watching our animal companions in pain. While they were their for you in hard times now you can be their for them.
I sure hope that some of this information helps you and your pets. Check out other amazing Treatible products, either online, or in stores. Treatibles also offers wholesale in the case you want to buy in bulk. You can find great Treatible products like pumkin, and blueberry flavored CBD treats. I've been giving our dog Hatchi the pumpkin flavored Treatibles for about a month now. Everything tends to sketch him out. If he isn't used to an object he can't focus on anything except that. Since he has been provided CBD Treatibles he's been a more easy going dog. It can be an indescribable emotion to see your dog enjoy himself for the first time. I want to thank Treatibles personally for the experience. Thanks to everyone for taking the time out of their day to read this article. Hopefully you and your pet can get some relief with Treatibles. Sending warm wishes to everyone, with the 4th of July Holday coming up be sure to have a good time and be safe out their.
Connect with Treatibles Via: Website | Twitter | Facebook | Treatibles 10mg CBD Gel Caps