Live Streaming of the Gold Cup Tournament on TV Everywhere (TVE), and A Kickin' Sweepstakes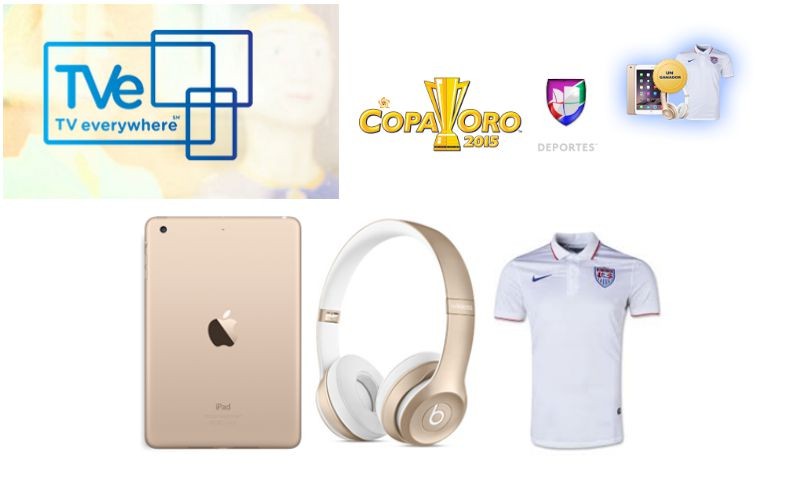 2015 is a great year for the Gold Cup Tournament.  There will be live streaming on TV Everywhere (TVE) and a Sweepstakes. The Gold Cup soccer tournament is now available via TV Everywhere (TVE), this allows cable subscribers to login and stream at no additional cost, whether they are online or on a mobile app.
The Gold Cup and the sweepstakes will be ending on July 26. Fans can watch the U.S. Men's National Team and follow teams from 12 North American, Central American and Caribbean countries as they look to advance to the July 26 final in Philadelphia. During the entire tournament, you can enter the sweepstakes by completing a simple form on MegasorteoCopaOro.  Univision Deportes is holding the sweepstakes to promote TV Everywhere (TVE) and the live streaming of the Gold Cup. You can view the schedule for the Gold Cup Tournament.
In order to enter you must supply your:
Name
Email
Zip code
Cable provider
You can gain additional entries by doing the following:
Make sure you watch a Deportes App TVE education video
Sharing with your friends and following Univision Deportes on Facebook
You can also answer a two-question survey about the usage of the Univision Deportes app
Lastly, discover the secret code that appears in the pregame video loop right before a game starts on the Deportes App, and enter that code at MegasorteoCopaOro .
What Prizes are Being Offered?
Users have multiple chances to win everything needed to steam the Gold Cup in style.
The Grand Prize consists of a Gold Mini iPad 3, Gold Beats Solo Wireless headphones and an official team jersey, (images below)
25 additional winners also being selected to receive official Gold Cup team apparel.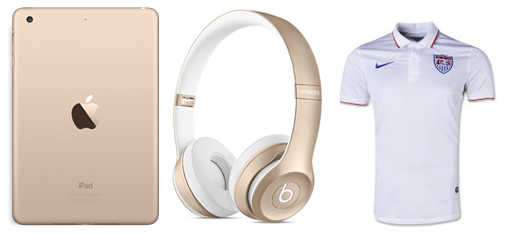 The live streaming of the Gold Cup is just one example of the hundreds of hours of programming which includes live sports, news and current/recent seasons of the most popular series on TV. Get easy access on smartphones, tablets or laptops. These are now available via TVE sites and apps from more than 100 networks.  Learn more at TV Everywhere Now or ctamtve.com. On the front page of the website, it lists the channels you can enjoy. Access great entertainment at home or on the go. Watch live or watch later on demand, including full-length, next-day episodes. These popular networks are all a part of the TV Everywhere experience. Check with your cable TV provider for a full listing. You will be able to keep up on the latest shows that you love!