The Best Hair Removal Techniques
Are you constantly worrying about shaving rashes? Are you looking for a more permanent solution for unwanted body hair in the run-up to summer? If so, this guide could be just what you've been looking for. Here are some of the best hair removal techniques to try now.
Waxing
Waxing is a technique, which is suited to both males and females. The beauty of waxing is that it produces longer-lasting results than shaving and using hair removal cream. However, the process is painful, especially if you're not used to having treatment. You also have to grow your hair to a reasonable length between sessions. This is not ideal if you're planning to wear summer dresses or flash your abs on the beach. Professional waxing saves you time and effort, but doing it yourself will save you money.
Shaving
Shaving is a quick and easy way of getting rid of unwanted hair on the face and body. The trouble with shaving is that you have to do it frequently. It can also irritate the skin, especially in sensitive areas. Many men find that they get a rash after shaving. You can reduce your risk of itchiness and redness by investing in a Panasonic shaver. Apply gel or foam to moist skin and then guide the razor around the contours of your skin gently. Wet shaving tends to be less damaging to the skin than dry shaving.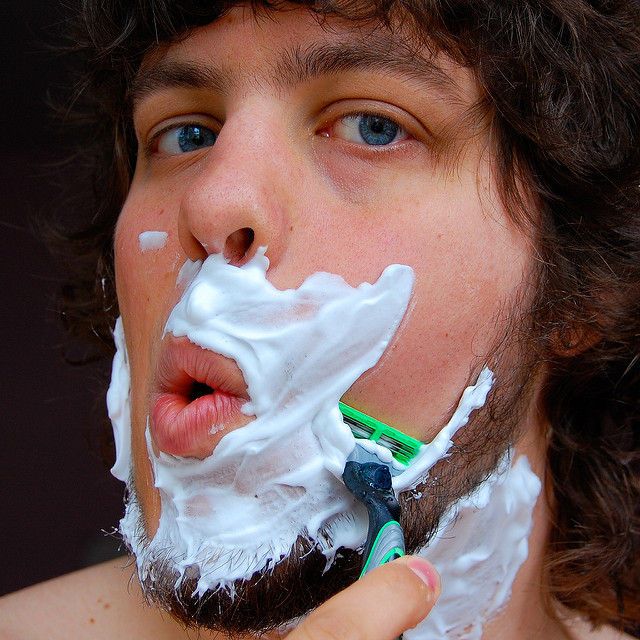 Image from https://www.flickr.com/photos/dotbenjamin/2575372856
Laser hair removal
A new kid on the block, laser hair removal is a long-term treatment option. Treatment involves a series of sessions. While permanent hair loss is not guaranteed, you will notice a substantial reduction in hair growth. You can have treatment on many different areas of the body and it is suited to both men and women. The cost of treatment is significant. However, if you are forking out for waxing sessions once a month, it will actually save you money in the long-run. If you are thinking about having laser hair removal treatment, book some consultations. Make sure you see a professional with experience in this field and get a final quote before you take the plunge.
Hair removal creams
Using hair removal creams is hassle-free and quick. Results vary and you may need to try out a few different products before you find your favorite. Always follow the usage instructions and seek medical advice if you suffer an adverse reaction.
Epillating
Epilators are small hand-held devices, which are designed to pluck out hairs from the root. The process can be a little uncomfortable, but the results last for longer than shaving. Do some research and read reviews before you buy an epilator. It may be worth paying a little more for a reputable brand to ensure high quality.
Hair removal can be a conundrum. Often, what suits one person won't be effective for another. Try a few different methods out and see how you get on. Don't be afraid to try out new treatments. You can always go back to tried and tested techniques.