New Emergency Preparedness Radio for Families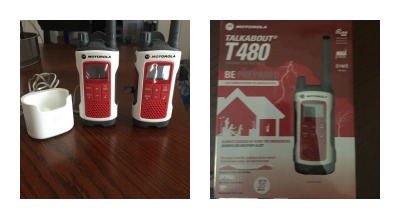 New Emergency Preparedness Radio for Families
Every summer we head to down the shore. My best friend lives in a campground for the summer season and my kids and I are always there. My kids love going there and hanging out with all of the other kids. It is one of those campgrounds where everyone knows everyone and we all watch each others kids. It is really tough for me to let them go and play on their own with the other kids without me supervising them. I am a pretty over protective momma so what I would do is buy some walkie talkies and have my daughter carry it around and check in every so often. This worked out great for me because it gave me the piece of mind and it lets the kids feel independent.
When I had an opportunity to review the Motorola Talkaboout T480 radios I was excited. The features alone were amazing! Not only can you communicate with the walkie talkies feature but it also has built-in LED flashlight, FM Radio in Two-way Radio, weather alerts, emergency alert button and the best part is it is weather proof! I am also very happy about the reach this Motorola TALKABOUT Two-Way Radio gives. In a neighborhood it can reach up to 1 mile. This is a larger distance than the actual campground so it is perfect!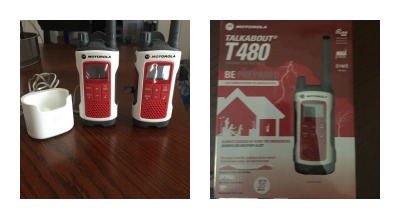 Stay Connected When the Unexpected Hits

With its plugged-in, always-on connectivity and instant communication, the T480 keeps you and your family ready for emergency situations. Even if the power is out or cell phone towers are down, your radio will be charged and ready to go, so that you can get weather alerts and communicate with your community.

How far can I expect my radios to communicate?
The communication range quoted is calculated based on an unobstructed line of sight test under optimum conditions. Actual range will vary depending on terrain and conditions, and is often less than the maximum possible. Your actual range will be limited by several factors including, but not limited to: terrain, weather conditions, electromagnetic interference and obstructions.
No matter what you are doing,whether it be hiking, camping, fishing, or just a overprotective mom like I am this is a great tool to have. Another idea that comes to mind with these Two-Way Radios, if you live in an area where you get a lot of power outages due to severe weather this is amazing to have. Since it gives you all of the latest updates, you will never have to wonder what is happening with the weather.