Coral Alkaline Water Sachets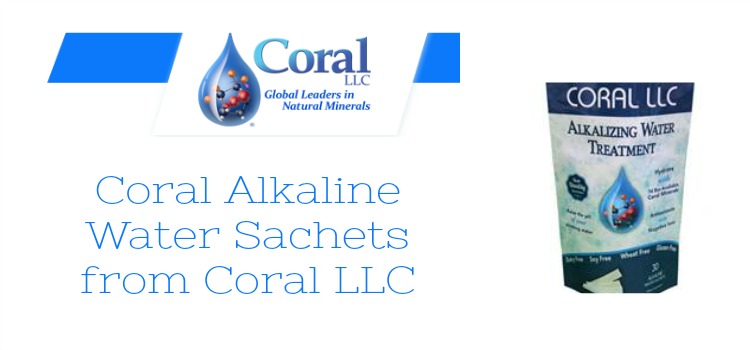 These statements have not been evaluated by the FDA. This product is not intended to diagnose, treat, cure or prevent any disease.
Have you ever tried Coral Alkalilne Water Sachets?
I am not sure what type of water you have at your home, but we have well water.  What I love is that we don't have to pay for it like we did when we lived in the village.  What do I not like? Sometimes it doesn't taste the greatest.  We have tried water filters, filtration systems, water filter pitchers and the list goes on.  We also buy bottled water quite often, and jug water for our coffee pot.
About Coral LLC
Since 1998, Coral LLC has been innovative in its use of coral minerals and continues to find new applications and partners to work with. Coral LLC was one of the first coral supplement provider to pulverize coral into an ultra-fine powder and offer it in a capsule or as a powder supplement. Coral LLC also developed the first-ever coral based toothpaste, utilizing coral to help restore, clean and whiten teeth.
Over the years, many companies such as Procter and Gamble, Source Naturals, Nature's Bounty and Coral LLC have discovered the uniquely great health benefits of coral minerals. All of these companies have managed to use coral in different ways, including in agriculture, cosmetics, sports, water enhancement, and more. Product quality, consistent inventory, innovation, customer programs, and excellent customer service separate Coral LLC from the long list of companies that utilize coral minerals. -information from their website.
My wife doesn't mind drinking it, or using it in her iced tea, but I just can't stand it.  The thing I like about the Coral Alkaline Water Sachets is that when they are added to the water these mineral sachets will:
raise the pH of your drinking water or beverage
Buffer chlorine
add ionic trace minerals to the water
Vitamin C is added as well
All of their Coral Calcium is ECO SAFE to assure the consumer that the ocean is never touched when harvesting this product.
About Coral Alkaline Water Sachets
Adding 74 bio-available minerals harvested from above-sea, EcoSafe coral, Coral's Water Alkalizing sachets help raise the pH of your drinking water, buffer chlorine and add Vitamin C and antioxidants by way of ionic trace minerals.
Whether at home or on the go, the convenient mineral sachets can easily transform ordinary water—bottled or treated—into a boosted beverage that may help support optimal energy and hydration. Alkalized water has also been known to help the body maintain a healthy pH balance, hydration level, and metabolism, as well as support natural detoxification*.
EcoSafe and Friend of the Sea certified, the Water Alkalizing Treatment, and the entirety of Coral LLC's supplements and products, bring the benefits of coral minerals to consumers without ever harming the ocean.
"We proudly celebrate World Oceans Day and remain steadfast in our commitment to environmentally-friendly harvesting practices related to our coral products," said Jason DeWitt, managing partner of Coral LLC. "Powered by above-sea coral minerals, our Water Alkalizing Treatment sachets provide a revolutionary way to healthfully enhance water without ever negatively impacting our ocean."
Coral LLC Water Alkalizing Treatment sachets are free of gluten, dairy, soy and wheat, and are available in a 30-sachet package for $14.95 (MSRP).
Coral LLC, the leading brand of coral minerals, is one of the original coral calcium mineral companies in the U.S., using only EcoSafe above-sea coral in its products. The company is located at 5576 Bighorn Drive, Carson City, NV. www.coralcalcium.com

Visit their them at their website for all of their product offerings.