I just love this site, Winning Moves Games.  They have so many of the games I played when I was younger.  Games I want to share with my kids and grandchildren.  When I was looking over the games they had to offer, so many good memories came back of playing them with my cousins, siblings and family.  I know back "then" we didn't have smartphones, computers and so on, so we relied on other things to keep us busy.  I remember many times laying on my aunt's living room floor playing Sorry, Trouble, Life and Risk (I never got Risk, but it was fun to be a part of it.).  My Dad's favorite game was Clue and he always won.
As you see I picked out some of my other favorites.  It was a hard choice as there were many I would have picked, but that just leaves me some to get at a later time.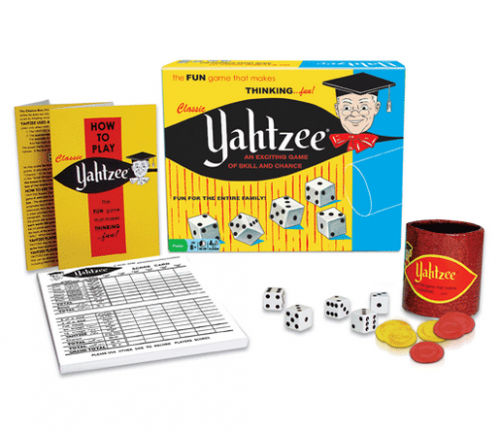 My first favorite to play as a family was Yahtzee,  I still remember my Dad shaking the dice while saying, "Baby needs a new pair of shoes".  You can tell that made a big impression on me because I am in my mid-40s and that was when I was probably 11.  The game you purchase on Winning Moves is the exact look of the box we had, as well as the cup.  This dice game was introduced over 50 years ago, and still to this day is played by many. Ages 8 and up, 2 or more players.
The Classic Yahtzee game comes with the same styling as the original game.
This set comes with:
the original aluminum rimmed dice cup
 five dice
scorepad
bonus chips.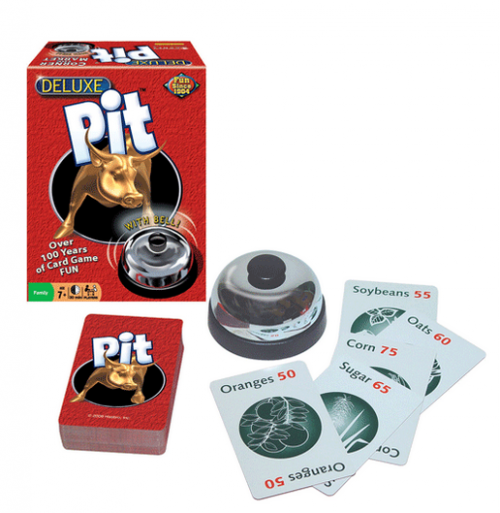 If Yahtzee isn't your thing, then you may enjoy another one of our family favorites. DELUXE PIT® could be the game for you. It is a fast moving card game.  I am including the video because I cannot explain the excitement you will feel while playing this game.  I will be honest, when this was played at my Aunt and Uncle's house one night, I cannot confirm or deny that my cousin broke their kitchen table.  I just can't say enough about this game as far as fun is concerned. Check out the video below. Ages 7 and up, 3 to 8 players.  Comes with 74 Casino-Quality cards, silver colored bell and illustrated rules.
Winning-Moves also has games for smaller kids.  They carry Candyland, Chutes and Ladders, Hi-Ho! Cherry-O, just to name a few. Two of my favorites are Crocodile Dentist and Uncle Wiggly.  Crocodile Dentist has changed in size since I was younger, as I would play with my younger sister.  Instead of having to pull out the teeth with a 'dental' tool, you now just have to push in each tooth before his jaws snap shut.  Please note that you will want to try it before you allow a small child to, that way you can show them how it works.  When his jaws shut you lose.  Poor old croc has a tooth that's bothering him; pretend to be a Dentist to help him out. Press the wrong tooth and he'll surprise you. No loose parts. A classic, just in the smaller form. Ages 4 and up, 1-4 players.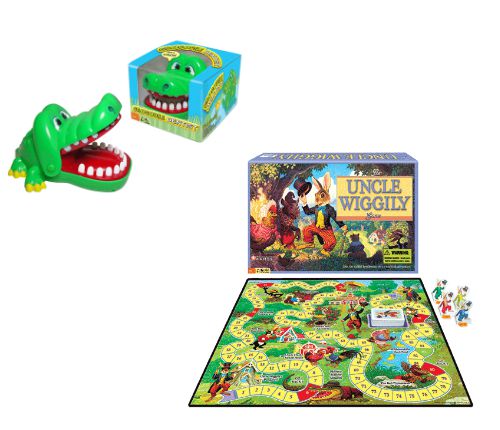 Until I went to Winning Moves I had not seen Uncle Wiggly since I was just a kid.  I loved this game and always enjoyed playing it. It is a classic child's first reading game. The first player to get their Uncle Wiggily piece to Dr. Possum's office wins. This game is for children ages 4-8, 2-4 players and it comes with the board, four "Uncle Wigglys",  rhyme cards, and the rules.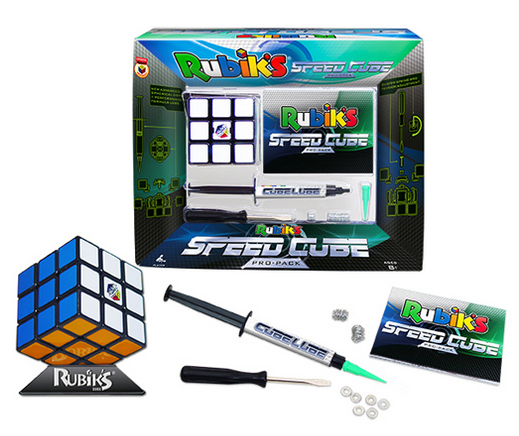 Last but not least the classic Rubik's Speed Cube. Endless hours have been spent for years on the Rubik's Cube.  All of the time spent trying to get the cube back to its original same color patterns on all 4 sides proves to be difficult.  Once a person has 'conquered' the cube, the next step is to see how fast you can do it again.  The Rubik's Speed Cube is a variation of the original because with this one you can customize your cube! Adjust the spring tension, lubricate the moving parts and unleash your inner Speed Cuber!  Ages 8 and up, 1 player.  Comes with 1 Rubik's Cube, cube stand, lube injector with lube, lube injector cap, mini screwdriver, 6 metal washers, 6 metal springs and instructional manual. You can now get your Rubik's Cube on!
Visit them on their Social Media:  FACEBOOK | TWITTER | YOUTUBE | PINTEREST
You can enter to win $75 at Winning Moves Games here——–> GIVEAWAY.
Disclosure:  I received the games mentioned in the post above in order to facilitate my review.  All opinions are my own.