A Giant Jenga is the Perfect Gift for the Family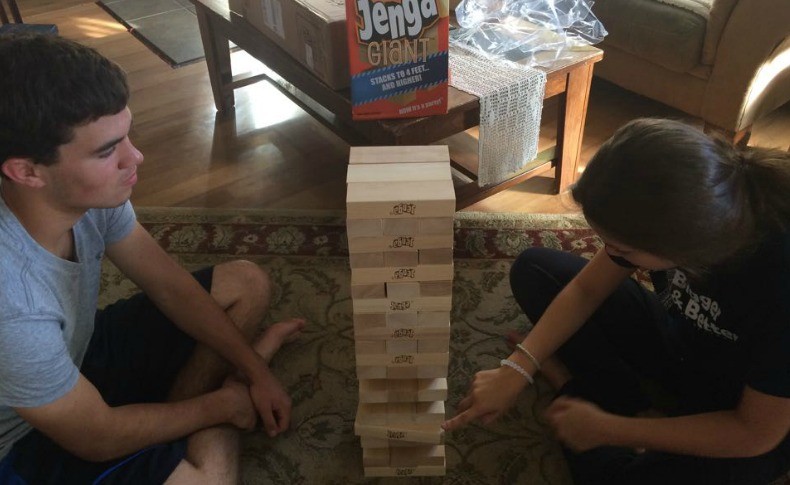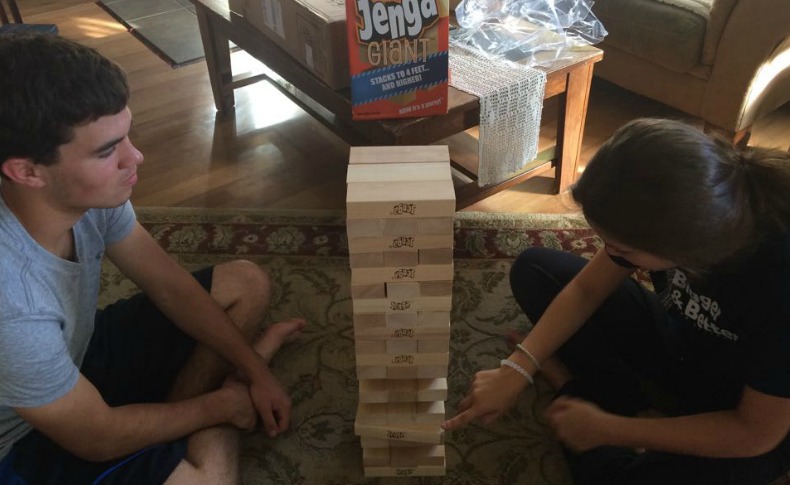 How do you Jenga?  Well now you can Jenga giantly.  The Giant Jenga is so much bigger than the original game. I couldn't get over just how big it was when it came, as well as heavy.  They definitely were not joking when they said giant.
JENGA® GIANT™ GENUINE HARDWOOD EDITION
is for ages 10 years + and it stacks over 4 foot tall and weighs 16 pounds. My 15 year-old nephew and his 14 year-old sister were wonderful enough to be my testers for this game as my daughter had went back to college.  They really enjoyed  playing it and they even let me take pictures of them and a video!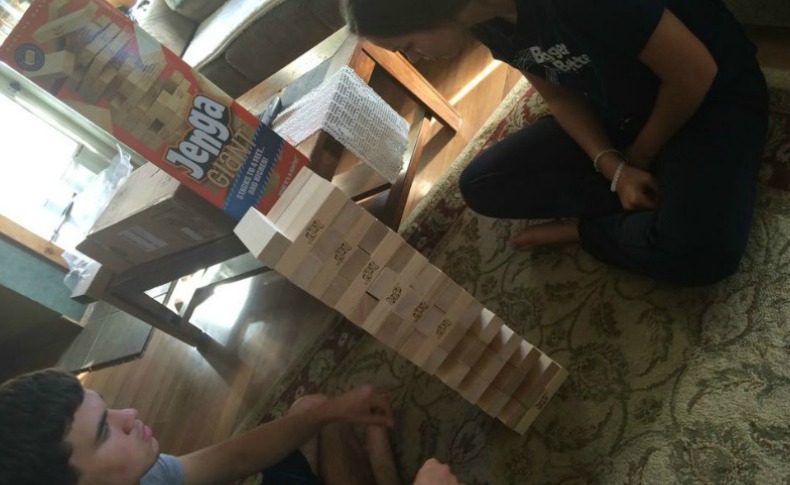 You see they have set it up and are starting to play.  My sister-in-law couldn't get over just how big the game is.  You can play with 1 or more players.
About Jenga:
Start the Jenga® GIANT™ fun!
Jenga® GIANT™: The classic Jenga® game, but MUCH BIGGER!
At setup, starts at nearly 22 inches, and can stack to over 4 feet high in play!
With Booster Pack (sold separately) the tower can stack to over 5 feet!
Blocks are over 8 times the size of Classic Jenga® blocks
54 precision cut, high quality, polished genuine hardwood 6″ x 2″ x 1.2″ blocks
Sturdy box for easy storage and transport
Jenga® GIANT™ On-Box Game Play Platform
Players: 1 or More
Ages: 10 to Adult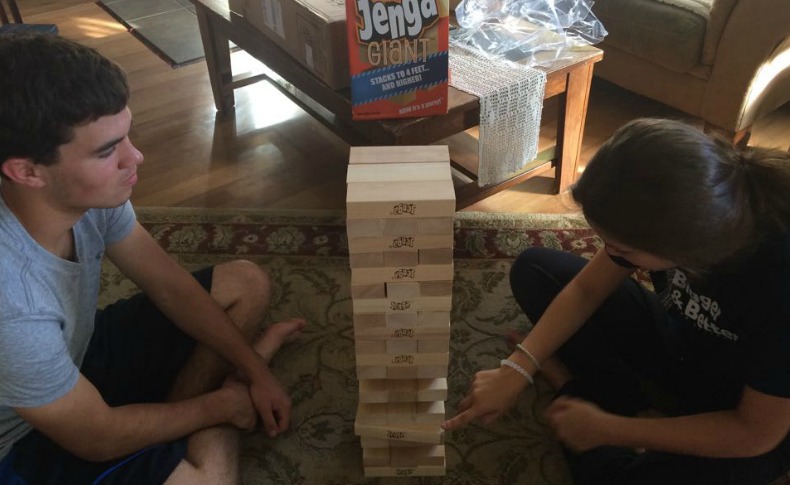 Jenga GIANT Genuine Hardwood Edition is the biggest hardwood Jenga game ever sold! Get ready for bigger build-ups and bigger crashes, as the classic block-stacking, stack-crashing game Jenga has its own GIANT counterpart! Jenga GIANT is the only authentic, jumbo, wood Jenga game. This version can stack to over 4 feet high (and over 5 feet high with the Jenga GIANT Genuine Hardwood Booster Pack available at www.jenga.com), and it's still portable! You can take it to the beach, your favorite hangout, and everywhere else you go. It's perfect for backyard BBQs, celebrations and parties, and anywhere people gather together to have fun.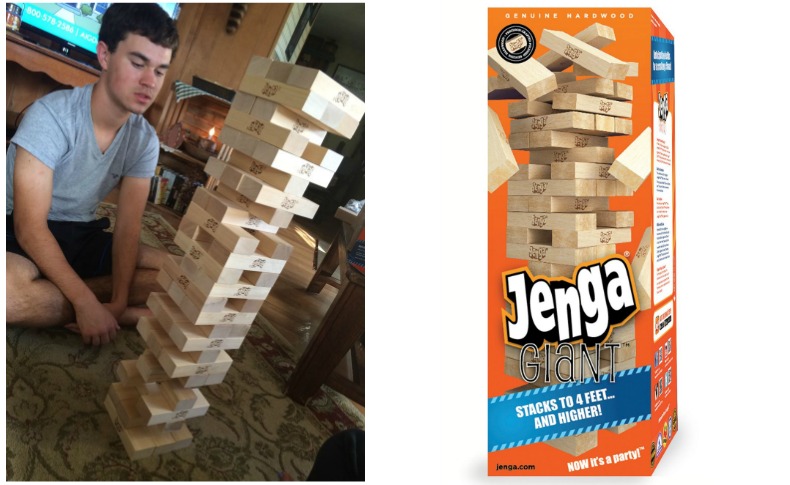 Jenga GIANT. NOW it's a party! If you want a GIGANTIC Jenga experience, check out Jenga XXL. Jenga XXL starts at 4 feet and can build to over 8 feet high! An entertainment highlight at events, fundraisers, and parties.
This video is in slow motion so you get the full effect. Also it is not silent, I think it is the total anticipation of what is about to happen.
Do you like to Jenga? You will want to Giant Jenga for sure!
Follow them or Visit on their Social Media:
Facebook | Twitter | Instagram | Pinterest | YouTube | Website |
Disclaimer:
This product was received from the Company for review purposes only. All thoughts and words in this post is my own and I was not paid to endorse it. I am only voicing my opinion about this product.