AcuRite Helps You from Keeping Time to Weighing In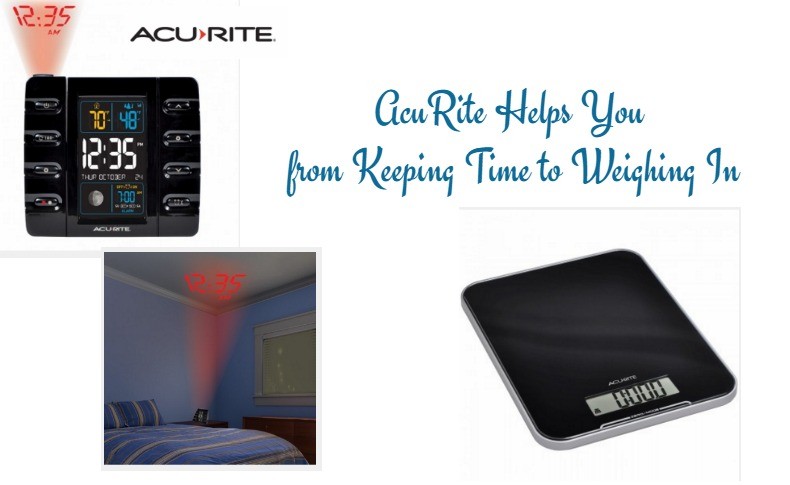 I have decided that AcuRite just about has it all when it comes to items for your home.  They are not just about weather only.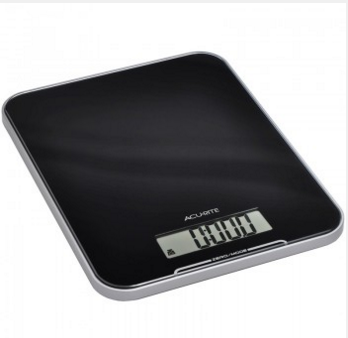 You will quickly find that there are so many holiday gifts for giving on the AcuRite website.  These are just 2 more items that I have had the pleasure of reviewing.  You can read our last review for AcuRite here—————–> AcuRite Wireless Weather Station Keeps you Informed.  Reasonably priced for quality gifts.  You will find that with AcuRite.
Digital Kitchen Scale 
They have a wonderful digital kitchen scale that weighs up to 22lbs.  That is so much more helpful than the 5lb scale that I used to use.  Its slim design makes it easy for me to keep it in a handy place within reach when needed.  You can also hang it on the wall and it doubles as a kitchen clock.  It is excellent for weighing anything you need in order to cook, store or even to compare to what the packaging says it weighs.
Features Included:
• Accurately weighs up to 22 lbs (10kg) in 0.1 oz (1g) increments
• Bold, easy to read LCD display
• Slim profile design with glass weighing platform
• Easy-clean, touch sensitive buttons
• Zero, tare and minus functions
• Weight, water and milk weighing modes
• Converts metric & imperial weights
• Auto shut-off preserves battery power
• Hang to stow
• Clock
Package Includes an owner's manual and scale.  There is also a limited one-year warranty.
The next item, I am going to admit when I agreed to review it I was thinking my husband might like it but it won't be a big deal to me.  Well was I wrong!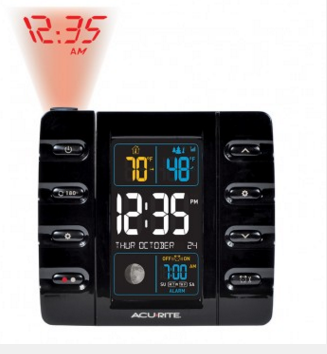 Intelli-Time Projection Alarm Clock With Temperature And USB Charger
This alarm clock is so amazing.  The thing "I" love the best is the projection onto the ceiling.  I sleep on the other side of the bed, and there were so many nights I would have to try to peer over my husband sleeping on his side to see what time it was. Well now with the Intelli-Time Projection Clock that is a thing of the past.  Now I just look up to the ceiling! My husband enjoys the fact that he can plug his phone into the USB to charge instead of another plug having to be used. Also, the weather information is a huge plus.  Whoever knew an alarm clock could do so much?  Oh, that is right, AcuRite does!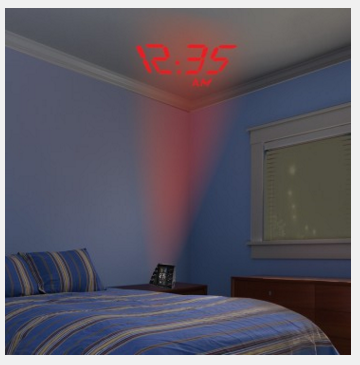 Projection Clock
Illuminated color display with auto-dimming brightness
Projects the time or temperature on the ceiling or wall
Indoor and outdoor temperature (degrees Fahrenheit and Celsius) with trend arrow
USB charger for compatible smartphones
Alarm clock can be set for everyday use or weekdays only
Focus adjustment dial for a crystal clear projection
180 degree projector rotation with flip image feature for versatile viewing angles
Intelli-Time clock and calendar (month/day/day of week)
Automatically adjusts for Daylight Saving Time (DST)
Electric power with battery backup in case of power failure
Wireless Temperature and Humidity Sensor
Measures temperature and humidity
Strong wireless range up to 330 feet (100 meters)
Transmits data every 16 seconds
Durable, all-weather construction – perfect for indoor or outdoor use
Easy installation includes integrated hanger
Projection Clock Includes: Projection clock, wireless temperature sensor, power adapter, instruction manual (does not include USB charger cables or phone)
Warranty: Limited 1 year warranty
Follow them on their Social Media:
Facebook | Twitter | Pinterest | YouTube | g+ | Website
Disclosure:  I was not compensated for this post. However, I did receive a product from the company below and the opinions expressed in this post are 100% my own. I am disclosing this in accordance with the FTC guidelines.