These Delectables™ SqueezeUp™ Treats are a rich, thick puree in a lickable tube that you can hand feed for a fun and delicious treat.  They will wonder what they did to get such a special, tasty treat.  These treats are not to replace their daily food but go along with their balanced diet.
They come in a pack of 4 in chicken and tuna flavors which is made up as a rich, thick puree in a lickable tube that provides cats with a fun and delicious treat. "Delectables SqueezeUp treats for cat/owner interaction while feeding your kitty and spending time together.
Pawtastic Campaign
Cats nationwide are going "pawtastic" over Hartz Delectables® SqueezeUp™ treats.  This is the first interactive wet cat treat. The Hartz Mountain Corporation announces their "Pawtastic!" campaign featuring videos of "celebricats" including Venus the Two Face Cat, Coby the Cat, White Coffee Cat, Hello Luna Rose, Hobbicats, N2 Cat Crew and Roothekangaroo "going crazy" for SqueezeUps on the company's social media channels in July and August 2017.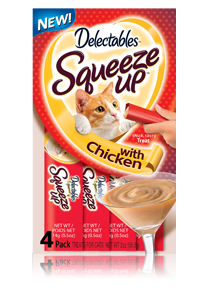 Ideal as an in-between meal treat or as a savory topper for dry food, Delectables SqueezeUp's convenient, single-serve tubes provide cats with tempting treats made with real chicken or tuna, without by-products.
Delectables SqueezeUp, launched back in July 2016 as the first interactive wet cat treat, is sold as a 4-pack and is available at major retailers including Walmart, Chewy.com, and Amazon.com.
As part of the "Pawtastic!" campaign, consumers are invited to share photos and videos of how their cats go "pawtastic" over SqueezeUps on the company's Facebook, Twitter, and Instagram pages using hashtags #pawtastic, #LickItLoveIt and #catsgocrazy4Delectables. Participants will be entered in weekly drawings for a chance to win SqueezeUp treats and Hartz® cat toys.  In addition to videos featuring "celebricats," the campaign will include product reviews by prominent cat bloggers and press coverage.
Delectables SqueezeUp's "Pawtastic!" campaign is part of the Delectables brand's national marketing plan for the second half of 2017. The Delectables Lickable Treats "Empty Bowl" campaign includes a targeted national TV commercial as well as digital and social media campaigns.
We love these cat treats and I am sure your kitty will too!
About The Hartz Mountain Corporation:
The Hartz Mountain Corporation is a leading manufacturer and marketer of pet care products in the United States and Canada. For over 90 years, Hartz has provided pet owners with the highest quality products — innovative solutions developed with proven science and a love for companion animals. The company offers more than 1,200 products for dogs, cats, birds, small animals, reptiles and fish, each dedicated to the health and well-being of household pets. For more information, visit www.hartz.com.