Nest Learning Thermostat.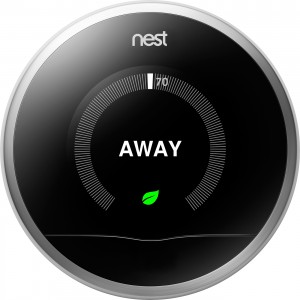 This new 3rd generation Nest Learning Thermostat, which is thinner, sleeker in design, and allows for a bigger, crisper display than the prior versions.
To get the most out of your Nest, connect to your existing home's Wi Fi network and download the free app from iTunes or GooglePlay – this allow you to manage your home's temperature from your smartphone, tablet or laptop, even when you're miles away
Never come home to a ice cold house again. You can easily turn down the temp when traveling, or set it to warm up your home before you come home
You can set it to accommodate your schedule and temperature preferences
Or, there is no need to set preferences – within a week, the Nest learning thermostat starts programming itself. It learns your habits and adjusts automatically, regulating your home's temperature based on your schedule – which can save you energy and money.  When you're not at home (the "Away" mode), it will automatically switch to an energy-efficient temperature. In independent studies, the Nest saved an average of 10-12% on heating and 15% on cooling bills.

Nest provides your energy usage, tracking how much you've used and provides tips that will help you conserve. Make an energy-saving temperature adjustment and the Nest Leaf will notify you immediately.
Nest provides alerts and reminders for peace of mind: it monitors your heating/cooling equipment, and tells you if anything is not working correctly. You can also be alerted if your home's temperature goes above or below limits you set.
Nest also works with Nest products, such as the Nest Cam and Protect, and other home automation devices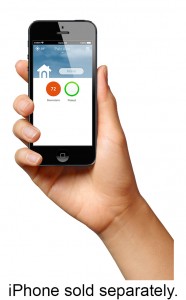 Netgear® Nighthawk™ DST Router and DST Adapter with Geek Squad included – new and exclusively at Best Buy
The Netgear Nighthawk is a new router that was exclusively developed between Netgear and Best Buy. As the number of Wi-Fi dependent products increase like phones, tablets, laptops, computers, and Wi-Fi printers. Many households may experience slow Wi-Fi, dropped calls, or experience "dead zones" – which could be improved upon with an "AC" router, Wi-Fi extenders. The Netgear Nighthawk is sure to go on my Christmas list.
The AC1900 comes with one DST, or "Dead Spot Terminator," adapter – to eliminate your Wi-Fi dead zones; place it in an area where you get little/no reception, to improve Wi-Fi access. Additional adapters can be purchased for other dead zones.
This high-performance router was built to support 10+ connected devices – you can also prioritize devices for streaming videos or music, and included advanced features for lag-free gaming
Eliminate dead zones and extend your coverage by using existing electrical wiring already within your home
Simply plug the adapter into any power outlet and create new WiFi access right there. No more weak WiFi
Sets up in minutes, no need to configure or install software
Adapter indicates the connection strength at any electrical outlet to ensure the the highest possible performance
Best Buy makes it easy with this new high performance Wi-Fi router, which includes a Wi-Fi extender and Geek Squad Set Up and Support via phone & web, for one full year.
The Geek Squad service via phone & web allows customers to call or get help 24/7 whenever they want, vs. the need to schedule an appointment.
Connect with Best Buy: