This awesome event only happens once per year, so if you don't act quickly, you're taking the chance that you may miss out on all the fun! November 17th-18th, join us at the 16th Annual Chicago Toy & Game Fair! It's one of those events that you have to be at to believe it. Seriously, it's that much fun!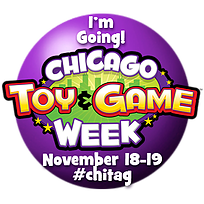 If you plan anything in November (besides Thanksgiving), you need to be at this event. The games and toys that are there are awesome, and are a great way to think up some fun holiday gifts as well! Plus, it's always super impressive to see young minds in action creating the toys and games of the future!
Act now before it's too late!
Ticket Prices:
Adults: $14 ($15 at the Door)
Children: $7 ($8 at the Door)
**Get Tickets HERE
You still may get in the day of the event if you don't buy your tickets ahead of time, but why even risk it? Buy now to reserve your spot. And bring a friend, too!
This event has been going on for many years and there's a reason! If for some reason you are unable to attend, please make certain to show your support by following along via social media. Simple search and share with #ChiTAG2018!
Also, take some time to follow and like their other social media outlets as well, please.
Facebook @chicagotoyandgameweek
Instagram @chitagweek
Twitter @chitagweek
Youtube ChicagoToyAndGame
LinkedIn Toy, Game & Play Innovators Network