Calling all game and toy lovers out there! If you are always on the hunt for the latest and greatest toys and games, you won't want to miss out on the 16th Annual Chicago Toy & Game Fair! I know we won't be missing it! We've got out tickets and are excited to spend the weekend (November 17th-18th) exploring and viewing all the fun games and inventions that are there!
Do you have plans that weekend? If not, make them now and plan on hanging out with us!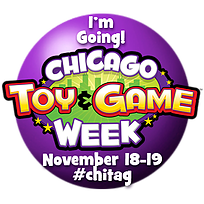 I'm not gonna lie, this weekend is seriously so much fun. It's crazy to wrap your mind around the fact that all these amazing toys and games are just bundled together, all in one room.
How can you join us? Buy your tickets now! (Seriously, don't delay – this venue will be packed!)
Where: Navy Pier, 840 East Grand Avenue, Festival Hall A & B, Chicago
Dates & Times:
Saturday, November 17th 10am-6pm
Sunday, November 18th 10am-5pm
And if you like saving time AND money, booking ahead of time will save you just a little bit of dough as well.
Ticket Prices:
Adults: $14 ($15 at the Door)
Children: $7 ($8 at the Door)
**Get Tickets HERE
I can't tell you how much fun this weekend is going to be. You need to be there with me to believe it! However, if you can't make it, please promise to follow along on social media and use #ChiTAG2018.
Tell your friends as well and make certain to follow the event on all their available social media outlets!
Facebook @chicagotoyandgameweek
Instagram @chitagweek
Twitter @chitagweek
Youtube ChicagoToyAndGame
LinkedIn Toy, Game & Play Innovators Network