Organic Lollipops For a Healthier Halloween Treat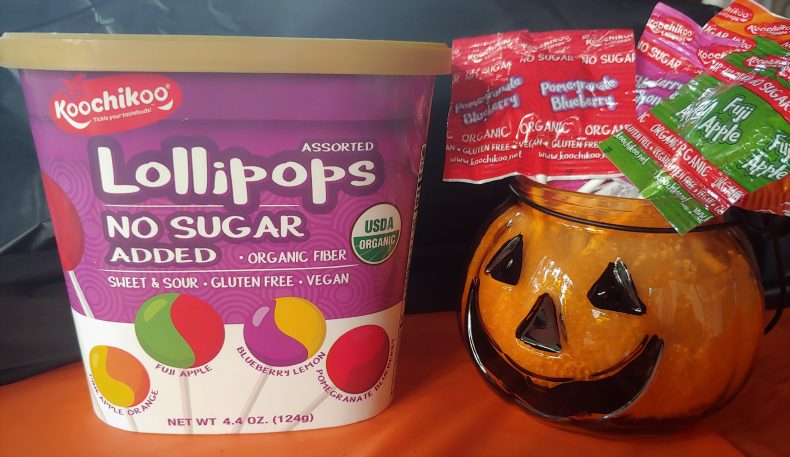 With Halloween just over a month away, we've been thinking long and hard about what kind of treats to hand out to trick-or-treaters this year. The possibilities are simply endless and you want to choose something that will make both kids and parents happy. Candy is a staple of the season. However, many parents are hoping to see a healthier Halloween treat or two dropped into their children's bags. Luckily, there are organic, sugar-free lollipops that will give everyone the best of both worlds!
Why Offer a Healthier Halloween Treat?
Choosing a healthier Halloween treat is important for many different reasons, but the effects of processed and artificial sweeteners are one of the biggest concerns for parents. With more than 58% of adults trying to limit their sugar intake, this is at the forefront of many minds. Add to that the fact that 39% of adults in the world are overweight, as well as 5% of children. It's quickly apparent why ensuring that there are healthier, lower calorie options that are free of artificial ingredients available is important. Weight issues are a catalyst for a myriad of other health problems, including diabetes, heart disease, and many other life-threatening issues. Finding ways to help combat the obesity epidemic without depriving children of the treats they love is amazing!
Koochikoo Sugar-free Organic Lollipops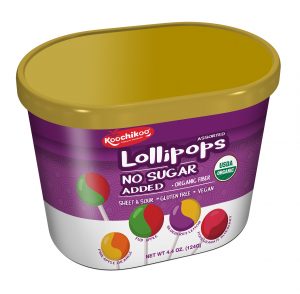 Koochikoo Sugar-Free Organic Lollipops were born from the love of a grandma who wanted to bring a smile to the faces of little ones everywhere. And just like the happiness brought when grandmas say "koochikoo" to little ones, Koochikoo lollipops have everyone smiling. Whether you simply love the taste or you're excited about the great benefits of this treat, it's a true hit for everyone.
Here are just a few of the amazing reasons why the world's first no sugar, organic lollipops are fast becoming a favorite:

 Koochikoo lollipops are USDA certified organic, which also means they contain no GMOs.
These no sugar lollipops are naturally sweetened with organic tapioca fiber, which is more than 60% as sweet as sugar. This gives the pops a satisfying sweetness without all the dangers of processed sugar or artificial sweeteners.
The tapioca fiber in each pop accounts for more than 5 grams of probiotic fiber. This helps to support digestion and also helps to balance the healthy bacteria in the gut.
Koochikoo lollipops are certified kosher, as well as vegan and gluten-free, and are manufactured in a dairy-free and peanut-free facility.
Each lollipop contains only 10 calories, making it a wonderfully low-calorie treat.
Koochikoo lollipops come in 4 delicious superfruit combinations: Fuji Apple, blueberry lemon, pomegranate blueberry, and pineapple orange.
Organic lollipops contain only natural flavors and organic colors. Nothing artificial!
Want to give Koochikoo a try or pick some up to give your trick-or-treaters a healthier Halloween treat? You can find them in Marshalls, TJ Maxx, and Homegoods or visit the Koochikoo Amazon Store to order. Be sure to use the code lollipower at checkout. You'll save 10% off your order of organic, no-sugar lollipops on Amazon.