Youth sports concession stands – kids live for them and parents have a love/hate relationship with them. Every single game or meet of every single sports season is the same song. Kids begging for a few dollars to get some junky food or candy and parents forking over the cash, just for a moment's peace or to avoid having to make a meal when they get home. While they sometimes have some wholesome snacks for kids to eat or the occasional entrée item that doesn't make you cringe, most of what is offered is processed snacks and candy. Having a little candy to celebrate a hard fought win or to ease the sting of a defeat can be fun. However, finding an organic, sugar-free treat is a much better choice.
Pack Your Own Organic, Sugar-free Treat
The fall and winter sport at our house is swimming. If you've ever attended a swim meet, you'll know that they can go on forever. In fact, many of our weekend meets last two to three days, with multiple sessions each day. This can mean a lot of meals consumed on the pool deck and a lot of opportunities for terrible food choices. Fortunately, we have found an effective way to control that issue with our kids.
By packing our own cooler and snack bag, we can stay away from the concession tables much of the time. Bringing food from home allows us to control ingredients and ensure that we know exactly what is going into our food. We pack lunches, fresh fruit and veggies, and a simple, sweet treat that we can use for a little mood pick-me-up in the middle of a long day.
Koochikoo Sugar-Free Lollipops are a fun treat that won't create that crazy sugar high and crash that can be detrimental to young athletes. With only 10 calories per pop, you aren't adding a bunch of empty calories to your child's diet, plus it's packed with probiotic fiber that helps to support gut health. Made with USDA certified organic ingredients, parents feel good about giving their children a fun, superfruit flavored treat theyenjoy during or after a game, match, or meet.They were created by a grandma who wanted better, healthier options to share with the little ones that she loved. So you know that they were made with only the best of the best ingredients.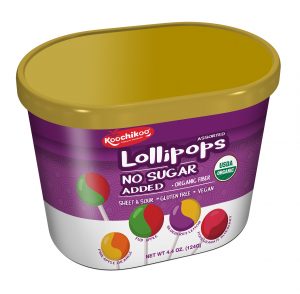 Donate Healthier Options to the Concession
In most youth sports leagues, the items sold at the concession stand come donated by a combination of local businesses and team parents. This means that you have the chance to make sure that your team's concession stand has the kind of products available that you want your child to eat! Instead of just going with what is easy or what everyone else is giving, take some time to consider what you are donating. Koochikoo Lollipops come in 20 count canisters that include Pineapple Orange, Fiji Apple, Blueberry Pomegranate, and Blueberry Lemon flavors. The pops come individually wrapped so easy to distribute!
Get ready to skip the concession stand at your next game or swim meet. Stock up now with Koochikoo at TJ Maxx, Marshalls, or Home Goods. You can also pick up Koochikoo Organic, Sugar-Free Lollipops online in the Koochikoo Amazon store. Enter the code lollipower at Amazon checkout for a 10% discount.