Surface Awaken Therapeutic Haircare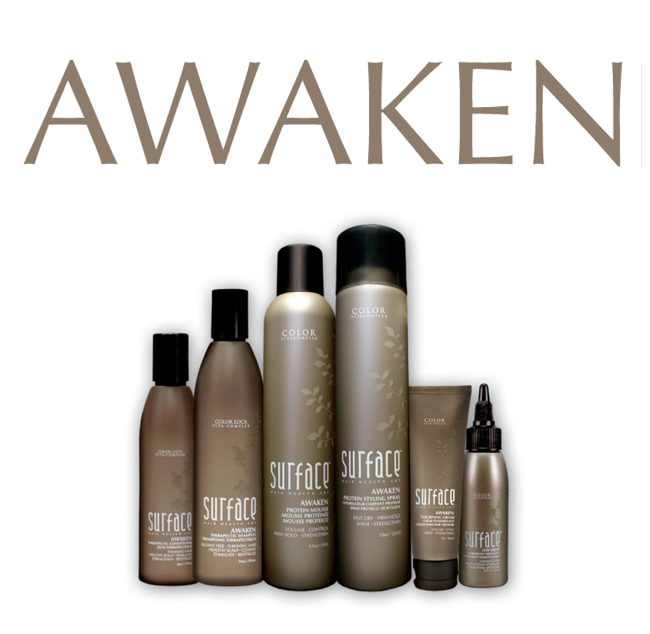 In the past few years I've been noticing some significant thinning of my hair, especially at my temples and although I know it's normal to have some thinning when you reach middle age (and beyond) I believe most of my hair loss has been due to pulling my hair back in a pony tail or with a barrette.
I still to this day continue to keep my hair pulled back most days because I have yet to find a new hairstyle I actually like. I know I'm not doing my scalp any good but after drying my hair I still wind up styling it the same way every day. Ugh, this has to stop!
Thankfully I was recently introduced to a brand I had never heard of before— Surface Hair Health Art. The company, as I have found, creates some really high quality products for a variety of hair issues and I have to say (so far) I'm loving the Awaken Therapeutic line.
After two weeks I've seen a bit of a difference in the texture of my hair. It has a thicker feel although I haven't noticed any new hair growth as of yet. I'm crossing my fingers though. hehee!
The products I'm using include the Awaken Therapeutic Thickening Cream, Awaken Mist, Awaken Therapeutic Treatment, and the Awaken Protein Styling Spray.
I absolutely love the scent of the thickening cream and the treatment. They have a nice, clean, minty smell that is absolutely eye opening. It's not overpowering but the aroma is really nice and refreshing. The mist is more mild in scent but has a similar aroma of a body lotion I've had in the past.
When it comes to hair spray I tend to use a pump spray rather than an aerosol can since it's better for the environment but I have to say I love that the protein styling spray doesn't have a sticky feel once sprayed so I'm not having to wash my hands afterward. The scent is virtually undetectable.
The Awaken Therapeutic products are made to strengthen and rejuvenate thinning hair and maintain a healthy scalp. The botanical extracts help decrease DHT and the anti-aging mineral ferments aid in cellular renewal. This line of products also helps relieve dandruff and psoriasis.
I can't wait to see how well my hair looks and feels after using Surface for a longer period of time. I've been eating more healthy foods and drinking tons of water so I'm hoping that helps give me the results I'm after— if anything I should be helping my diet along. Fingers crossed! Next, I want to try the Surface Curls line to really enhance my nature waves. hehee!
CONNECT WITH SURFACE:
Disclaimer:
This product was received from the Company for review purposes only. All thoughts and words in this post is my own and I was not paid to endorse it. I am only voicing my opinion about this product.