The Hugaboo is a wonderful product for any baby.  They come in a variety of patterns, like the one I got for my grandson is perfect for a little boy, which is shown above.  This is a 'Mom invented' product and that makes me love it even more.  These are also great to give as a baby shower gift. It is something I will definitely keep in mind for any upcoming showers that I am invited to.  I will also want to make sure that any of my future grandchildren have one.
The Hugaboo gives your baby the freedom to comfortably observe their surroundings and spend quality time with the family. Zakary loves his hugaboo, as he is getting better at sitting up, but this helps him be able to do that without the worry of him falling over.
The Hugaboo Baby Floor Seat can be used for babies as soon as they can support their own head. Who are between the ages of 3 to 10 months. It's made from 100% polyester fabric with polyester fiber fill, and a spot washable cover for easy clean up.  This is helpful as Zakary has had some issues with spitting up more often than some babies.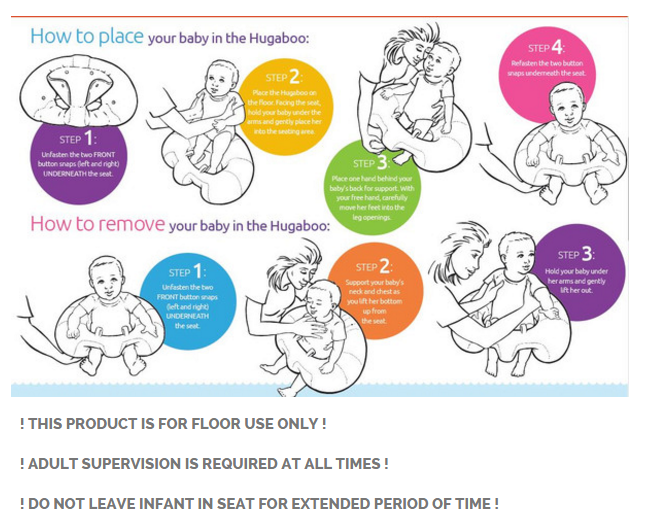 Please note: This product is for floor use only with adult supervision. Do not allow infant to sleep in the Hugaboo product.
Information from the Hugaboo Website:
Upright seating position – helps stabilize your infant's back, sides and legs while they learn to sit up
360º of comfy support – safely wraps your baby in plush comfort as they observe their surroundings
Attached seat bottom – prevents your infant from sliding onto the floor
Two toy attachments – perfect for floor time activities that develop sensory and motor skills
Spot washable fabric – cover can be spot treated for quick, easy cleaning
Safety Tested – CPSIA, ASTM F963-11, ISO 8124 and European Regulation 1907/2006
Make sure to follow them on their Social Media:
Facebook | Twitter | Pinterest | Website