Tips To Create A Garden You can Use All Year Round
Many of us only tend to use our outside spaces when the weather is fine. For some of us, that shortens our enjoyment of our gardens to just a few weeks of the year. With some clever design ideas, you can maximize your usage of your yard. This can help add far more usable space to your home. You could use it for entertaining, dining, sunbathing, meditating or even working. We've put together some of the best ideas to help you create the garden you want.
Start by sketching the shape and size of your garden. If you have a good sized budget, you might consider starting again. Designing a garden that can be used all year round will require you to section some areas. Identify the orientation of each part of your garden. You may find the direction of the sun could influence how you use that part of your yard.
There are many choices for your use of the outside space at your home. You may enjoy entertaining and dining outside. To make the most of your outdoor dining area, you might be interested in creating an outside dining room. This requires a frame being built to support a lightweight roof. The space will be protected from showers, but still enjoy the breeze as it is not enclosed at the sides.
Within this covered area, you could use a barbecue. You might have a full dining set or even a lounge set. Usually, the ground is hard-standing but you might choose a more natural wooden deck to blend with the surroundings. Decking has become very popular. It is used for wrap around verandas, pathways, and leveling off the ground. Steps made of the wood connect each of the areas.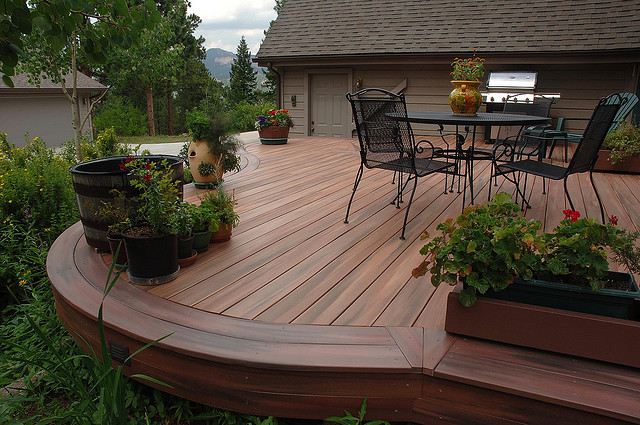 You might choose to cover some of your garden with a gazebo. Perhaps you would prefer some natural shading. Fast growing shade trees can provide you with the shelter and shade you need within just a couple of years. Plants like bamboo grow very rapidly and can be used to create growth in several places from one root structure.
If you have plenty of space outside your property, you might consider an outbuilding. Wooden structures tend not to require building regulations or local authority planning permission. Check with your local office to make sure. Garden rooms are effectively large sheds. They are built of wood and have windows and doors. You can insulate them for use in cold weather, and even run power to them from the main house. They make ideal home offices or even workout rooms.
You can use a garden room for a home business or as a relaxing home escape. Meditation is good for your health and well-being. A space like this can be a great place to escape to and enjoy some peace and quiet. In the summer, you might enjoy using a Zen garden. These are thought to promote peace and balance to help you feel relaxed for your meditation.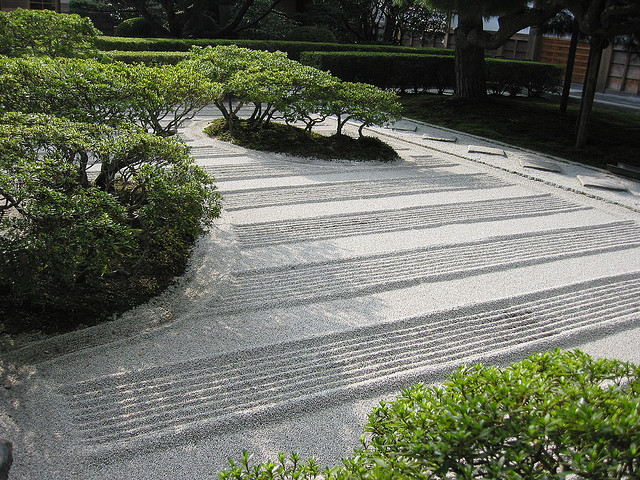 More and more people are looking for ways to become self-sufficient. Lots of us have solar panels on the roof, and some of us grow our own produce. You don't need a lot of space to grow some potatoes, tomatoes or strawberries. A few containers may be enough to provide seasonal produce for your family. For those living in colder climates, you might need to invest in a greenhouse. These can be heated, but they are usually adequate on their own to protect your plants.
Flowers and planting are used to create beautiful effects with colors and structure. Shrubs can be used to produce height in the garden. Clever planting of flowers can allow you to create interesting color schemes too. Some people like to use just containers. These can easily be moved around as required. Other people plant directly into their garden soil. Check the type of soil you have first. You may need to feed the plants to sustain them. You might also need to manage pest control of slugs, snails, and other plant eaters.
Pets love making use of your garden. Dogs might benefit from their own dedicated area. Fencing can be used to prevent your canine from trampling or destroying other parts of your yard. This is a particularly good idea if you have a children's play area. Play bark, grass, and other soft surfaces are ideal for children to play on. They cut the risk of injury from falls quite significantly. Artificial grass doesn't get muddy or house insects, so this could be the best option.
Water features and ponds are great for attracting wildlife and insects that could be essential to the health of your plants. Birds will also make good use of such things. If you enjoy birds coming to your yard, then why not set up a bird bath and feeding station in your garden? You can also erect bird houses. Birds will then nest inside. You have the option of installing a mini video camera inside to witness the moment any eggs hatch.
Security is important in your garden. You might want to install strong fencing around the perimeters to keep intruders and animals out. Security lighting is also a good idea to deter would-be thieves from getting to your property. A lockable gate gives you access without providing an easy way inside. CCTV with night vision is quite popular. Of course, you may just be interested to see what kind of wildlife tracks across your lawn in the evenings!
Lots of people love the idea of having a swimming pool. Many are outdoor pools as this is the cheapest option. They require regular cleaning and maintenance to ensure the water is safe to swim in. You should also erect a secure gate around the pool area to prevent children and wildlife falling in accidentally. Pools can also be a great way to keep fit and relax on a hot day.
Most of us love our gardens and outdoor spaces. But few of us are truly making the most of them. See what you can design for your space today. Then you can watch it grow and mature into your perfect garden.