My wife Michelle and I are avid board game players, so is her entire family as well.  There is just something about board games like the ones from Winning Moves that help bring us all together, and have fun while we are all bonding at the same time.
Tile Lock Super Scrabble
I simply love words.  I love trying to always make sure I know how to spell them and know what they mean.  Ever since I was a kid, I remember looking over dictionaries and entering spelling bee competitions.  So as I grew up, playing Scrabble was always a game I cherished because I considered myself good at it.  So how do you enhance the game of Scrabble?  Make the board bigger of course!
With 441 spaces, and 200 tiles, take your Scrabble game to the next level.  I love that it also has the tile lock feature that keeps everyone's words in place.  This allows you to shift and turn the board to a better position to allow you to see how placement would be for the word you are trying to make.
Buy your copy of Tile Lock Super Scrabble over at Winning-Moves Games here.
Monopoly®: The Mega Edition
If you have never played Monopoly while growing up, what planet are you from again?  Hasn't it always been our goal to try to own it all?  in Monopoly, that is completely the goal, to own it all, and make people pay for it.  Whether it be the back door deals with a friend, or family member to get that property you needed, or landing on the space that you were missing, or if you played with auction rules, having enough money to outbid everyone else.  Winning the game meant getting lucky with the right properties, and improving them to take down your fellow players.
In this edition, it gets enhanced by adding 9 more properties, the ability to build skyscrapers, adding a new speed die invented by Winning-Moves to make game play faster, and $1000 dollar bills instead of the common $500, do you have what it takes to be the next real estate tycoon?
Grab your Mega Edition of Monopoly here, from Winning-Moves Games.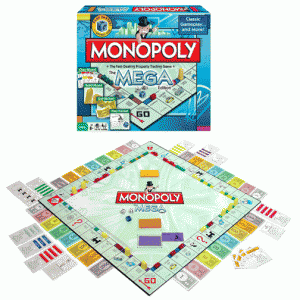 Connect 4® Twist & Turn™
Winning-Moves Games takes a childhood classic game and literally puts a new twist on it.  Each layer of the tower twists, so the idea of the game is to Drop, Twist, and Win.  Can you out maneuver your opponent? Can you out-think them and come up with a strategy to win? Adding this new and innovative playing mechanic to a already classic game allows the game to have a new excitement and will allow you to take this portable game anywhere with you.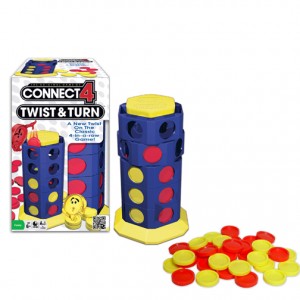 Grab the Connect 4® Twist & Turn™ here from Winning-Moves Games.
Connect with Winning Moves Games: Facebook / Pinterest / Twitter  – Be sure to check out the Giveaway running from 2/24 – 3/3 right here.
Disclaimer:
This product was received from the Company for review purposes only. All thoughts and words in this post is my own and I was not paid to endorse it. I am only voicing my opinion about this product.