Any time is a good time to quit smoking, but the winter months are especially well suited. Here are five reasons why you should choose now to kick the habit.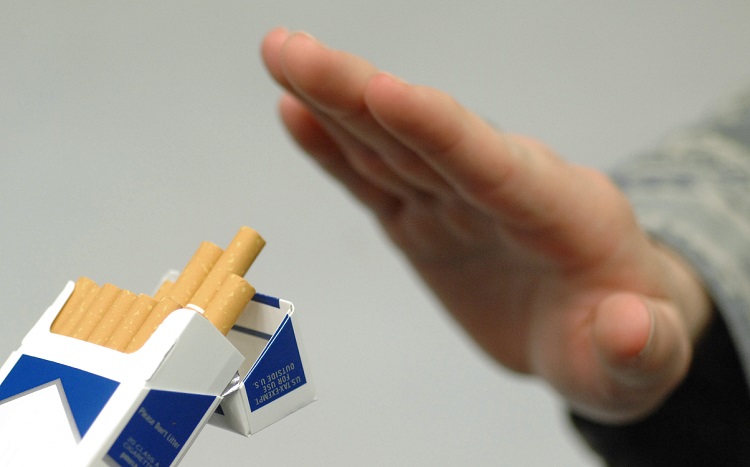 It's too cold to go outside
Having to leave the warmth of a pub or friend's house and stand in the icy cold just to get that five second nicotine high isn't really worth it, is it? Don't tell yourself that you're out there to get 'fresh air'. Quit smoking and stay cozy indoors.
Deals on e-cigarettes
The Christmas and January sales are the best time to find a deal on an E-cig. If going full cold turkey is too difficult, taking up vaping is a great alternative. It's cheaper than tobacco to buy e liquid, plus you can do it inside (although some places do have bans, it's definitely not as widespread as the ban on smoking).
Your blood pressure is higher in winter
To deal with the cold, your blood pressure is natural higher this time of the year. Smoking increases your blood pressure even more so, putting an even greater strain on your heart. This can bring on heart conditions and at its very worst, cause you to have heart attack or cardiac arrest. Take the pressure off by taking the tobacco away.
You're more likely to catch a cold or the flu
Among smoking's many health risks, one of the most major ones is that damages your immune system leaving your more open to common winter viruses like the cold and flu. With all the stresses of Christmas, whether it be buying gifts, having to work extra shifts to earn that little extra or simply having to deal with all the family on Christmas day, the last thing you want is to be left bedridden because of some nasty bug you might otherwise not have caught if you weren't smoking. Cut smoking out of your life and ward off the festive fevers.
A new year is a fresh start
The stress of December might make quitting smoking right now seem unrealistic. And you're probably going to give in to the inhibitions of alcohol on New Year's Eve and have a cheeky puff or two. But beginning January, there's no excuse not to wipe the slate clean and quit for good. Many people make new year's resolutions to go to the gym more or cut down on chocolate, when giving up smoking should be the priority. Not putting tar into lungs will do more for your body than a week on the treadmill, and all that fat that you think chocolate is piling onto you is nothing compared to what smoking is pumping into your arteries. Start making a plan now – ration your remaining cigarettes until the first of January and invest in an e-cig (or ask for one for Christmas!). Get a calendar so that you can tick off the days and create a reward system that doesn't involve smoking. Cracking the first month is the key. Go longer than that and you'll soon never want to touch a cigarette again!