Celebrate with Not Just Any Old Day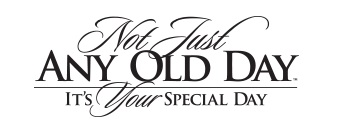 Why wear just any piece of jewelry, when you can wear a piece that celebrates your special day.  Not Just Any Old Day helps you wear your most cherished days on your fingers, and around your wrist and neck! What is your special day?  A birthday, your wedding day, the day that your child was born?

Celebrate Your Special Day!
Their Story

At the end of 2007, I sat at my computer and was searching the internet for hours hoping to find the perfect gift to commemorate a special date in the life of my husband, Steve. I was having a hard time finding exactly what I pictured in my mind his gift should look like. I recalled a calendar charm that my Grandfather (who was a jeweler) had made into a necklace and gave to my Grandmother to mark their wedding anniversary. She wore it every day that I can remember, and it was probably the most special treasure in her jewelry collection.

Being as sentimental as I am, I wanted to find a similar piece that was meaningful and unique to give to the special man in my life. Everything I found online was so ordinary or not quite my taste. To solve my dilemma, I designed my own calendar charm, and had the first calendar piece in sterling silver made into a key ring for Steve. I loved it so much, that I had a calendar necklace made for myself with my own birthday marked on it. Every time I wore my necklace, strangers would stop and ask me about it and wanted to know where they could buy one. A few of my friends asked if I could make their birthday months into a calendar necklace for them as well. That was the beginning of my original Calendar Datesake™ Jewelry and Gift Collection. I wish you and yours many heartfelt moments, countless happy memories and an abundance of "Special Days".
What a coincidence, my husband's name is Steve, too, and I do so cherish the day that we were married and every day since.  That's why he will be giving me a precious piece of jewelry this Christmas (even though he doesn't know it yet;-) to celebrate our wedding day…each and every day of the year.
I received 2 bracelets from Not Just Any Old Day (one for me, to celebrate my birthday and one for my youngest daughter, to celebrate her birthday), and I was so thrilled, that I knew instantly what I wanted for Christmas this year.
A Calendar Key with the month we were married (September) with a Sapphire to mark the day (the 28th).

Let me show you, and tell you about, the bracelets that I received.  The are exquisite in every way.  The bracelet, I'm fairly sure, will fit almost anyone's wrist.  I've found, that due to its design, it can be slightly squeezed in one direction, to fit a smaller wrist or (in my case) squeezed in the opposite direction – to accommodate a chunkier one.  (What can I say – there is more of me to love!)
In actuality, the bracelet is far more beautiful than the photos depict.  They each arrived in their own lovely blue satin bag with a ribbon closure. I chose Antique Silver for my bracelet and charm and for my daughter, I got Antique Rose Gold.  The 3rd choice for these gorgeous pieces is Antique Brass.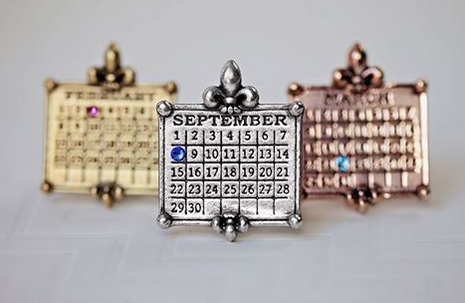 This holiday season when your going over your list for the special guys (yes, they have gifts for the fellas) and gals in your life, I hope you'll consider Not Just Any Old Day, for a gift that they will cherish for a lifetime!
Connect With Not Just Any Old Day:  Shop | Facebook | Twitter
I received product from the Company for review purposes only. All thoughts and words in this post are my own and I was not paid to endorse it. I am only voicing my honest opinion about this product.