Half Zebra and Half Unicorn: Zoonicorns are Very Special Friends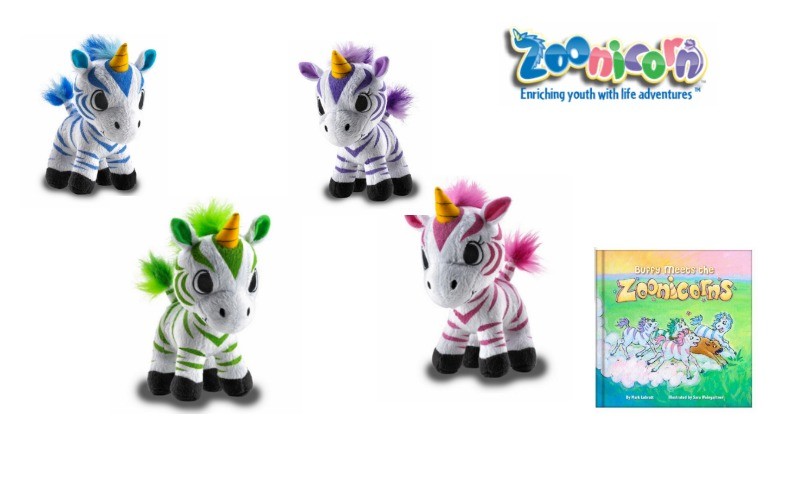 Zoonicorns, are half of a zebra and half unicorn.  They come in  four different characters so your child is bound to find a favorite.  There is Promithea (purple), Valeo (blue), Ene (green), and Aliel (pink).
Each one of the Zoonicorn has a trait that makes them very special.
Promithia is shy and somewhat quiet.  She will keep your secrets and you can count on this because her name is close to 'promise'.  Promithia will be your forever friend.
Valeo is looked upon as the leader of the herd.  Even if he isn't feeling brave, no one will know. He enjoys hanging out at the Africa Exhibit with the giraffes. The lions make him nervous because of their big teeth.
Ene is the Zoonicorn that loves to nap. When he isn't napping he can be mischievous, like the time he put too much pepper in Mr. Giraffe's hay.  When you are ready to play you will find Ene relaxing with his friends under the blossoming tree.  He will be ready and waiting for you.
Aliel is speedy and sometimes her mouth gets ahead of her brain.  She is friends with all of the animals in the zoo.  She loves to play and would love to be your friend.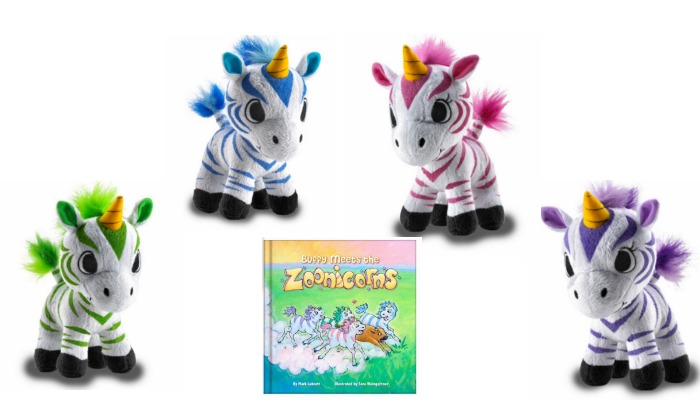 There is also a book called, "Buffy Meets the Zoonicorns".
Buffy feels a little ignored and wants the freedom that the older animals have.  Within Buffy's dream, she meets the Zoonicorns and learns to appreciate the balance of freedom and responsibility.  After waking up from her dreamland adventure, Buffy quickly realizes how much she appreciates her life… just as it is!   Each book includes a life lesson for positive reinforcement.
For $9.99 for each of the Zoonicorns, you can get all four and then the book is only $9.95 which is a $7.00 savings (at the time of writing this post).  Such a great way to either give as separate gifts or as one gift altogether.
Follow them on their Social Media:
For your chance to win all four Zoonicorns plus the hardcover "Buffy Meets the Zoonicorns" click the giveaway banner below.
Disclosure:  I was not compensated for this post. However, I did receive a product from the company below and the opinions expressed in this post are 100% my own. I am disclosing this in accordance with the FTC guidelines.