Introducing The Bratz® Sweet Style™ Collection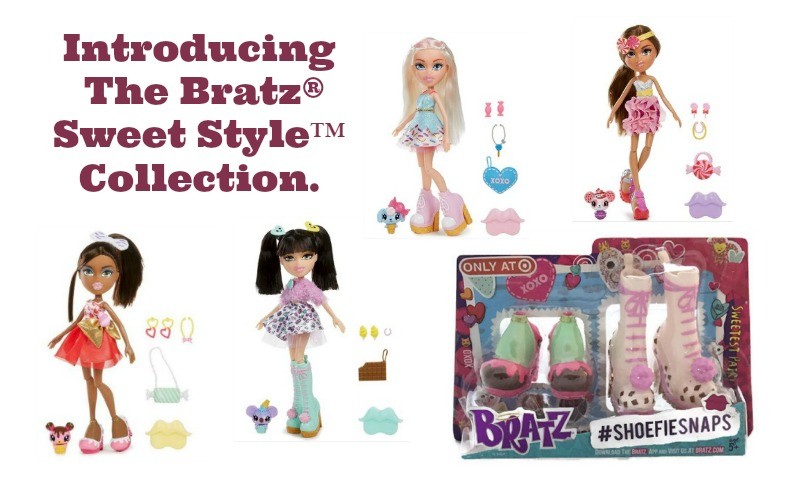 Bratz were very popular in our home when my daughter was younger, even before she hit her tween years.  When I received The new Bratz Sweet Style Collection I sent her pictures. Her first response was, "oh my gosh they have knees".  I guess I never paid attention to things like that.  So she then said, "wow they have come such a long way, I wished I still played with them." So then I asked my great niece and granddaughter (who are both 5) if they liked Bratz and they said in unison, "I love Bratz".  This just goes to show you that the love of Bratz span quite an age group. So let me introduce you to the Bratz of the Sweety Style Collection.
Cloe™, Jade™, Yasmin™ and Sasha™ show off their Sweet Style™ as they celebrate the grand opening of the CIY Sweet Shoppe™!
The Bratz® Sweet Style™ Collection features each of the girls in outfits inspired by their favorite sweets. Jade's got a major sweet tooth for mint chocolate chip and cotton candy.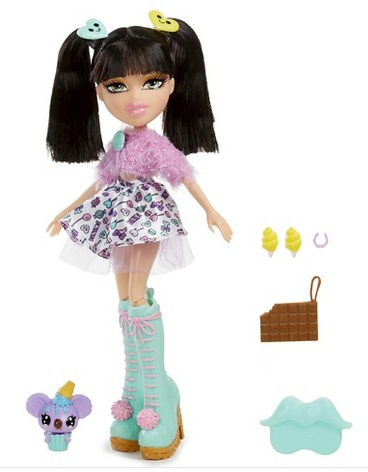 Jade™ is all about the mix and match in her pastel print outfit, knee-high mint ice cream cone boots and a cotton candy inspired pink fluffy top
Accessories include a chocolate bar clutch, candy hearts hair ties, and cotton candy earrings
Her pet koala is dressed as a blueberry froyo, this includes the iconic Bratz® hairbrush in yellow!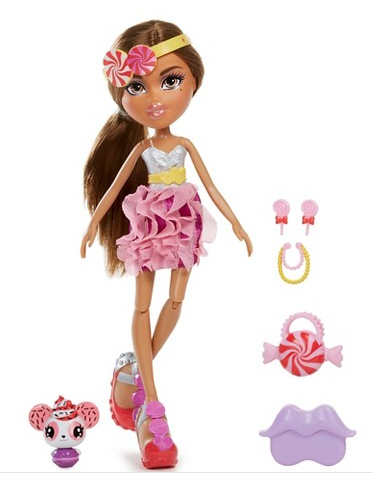 Yasmin's Sweet Style dress features a metallic silver top, a heart-shaped belt, and pink mesh ruffle skirt.  Her accessories include lollipop earrings, candy colored necklace, and a peppermint handbag, and trades in her floral crown for a peppermint headband.  Her pet panda is dressed as a sweet berry macaron and her set includes the iconic Bratz® hairbrush in peach.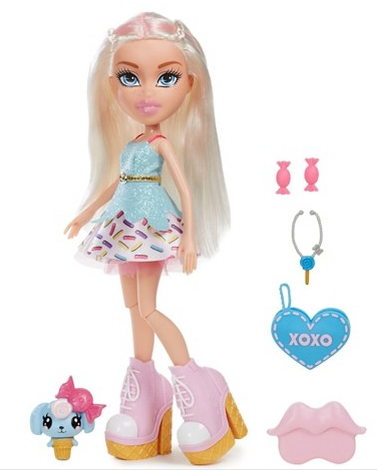 Cloe's Sweet Style™ dress is a frosted top over a layer of sprinkled skirt and a pair of bubblegum pink lace-ups with waffle platforms. Her accessories include a candy heart wristlet, candy earrings and a lollipop necklace. Cloe has a pet puppy dressed as a froyo cone and it includes the iconic Bratz hairbrush in lavender.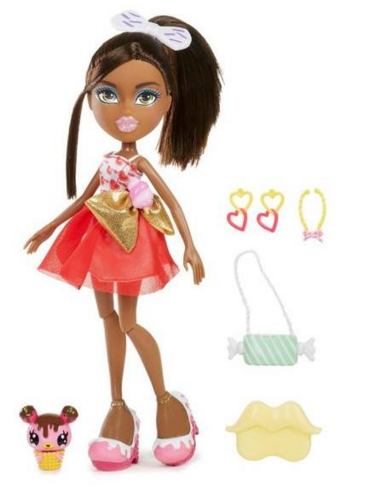 Sasha and her pet froyo bear have one thing in common: they both love anything cherry flavored!  Sasha's sweet style 2-piece outfit features a satin top paired with a big layered red skirt and a gold bow accent. Her accessories include heart earrings, candy bow necklace, sprinkles hair bow, and a candy cross-body bag. Her pet bear is dressed as a chocolate-dipped cherry froyo cone and included is the the iconic Bratz hairbrush in bubblegum pink.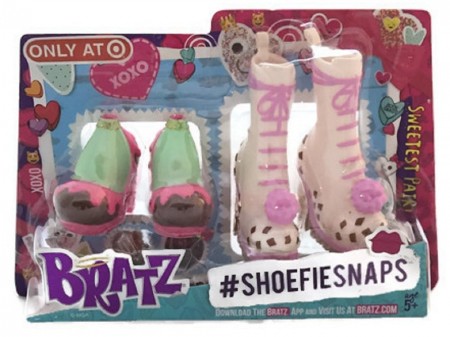 Also do not forget to get your #shoefiesnaps! They have a special Valentines Day 2016 special pack.
All Bratz are suggested for ages 5 years old and up.  They have small parts so it is good to keep them up in households with babys or toddlers.
You can purchase Bratz Collections on Amazon, Target, Toys R Us just to name a few places!
Find them on:
Facebook | Twitter | YouTube | Instagram | Website