Lalaloopsy the Minis, Style and Swap plus More!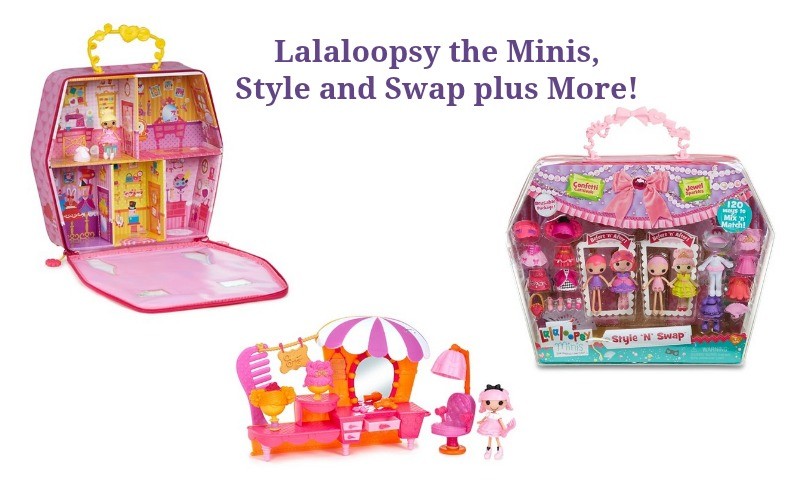 Little girls (and boys) enjoy playing and using their imagination. Lalaloopsy has quite a few playsets that will get your child playing and pretending.  I am so impressed with the ones that I received.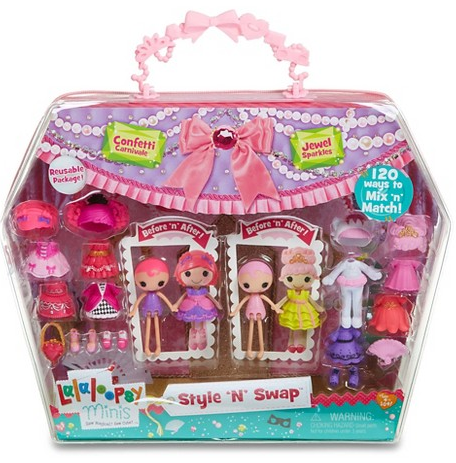 With the Mini Lalaloopsy Style 'N' Swap Multipack Doll- Princess each doll comes with  a cute pet and fun little accessories that fit their personalities. This set gives you a 120 ways to mix and match. With 2 Mini dolls and 20+ fun accessory pieces, your child can swap out clothing, change out wigs and shoes as many times as they want.  You can choose between 2 different themed sets: the Mermaid Set and the Princess set.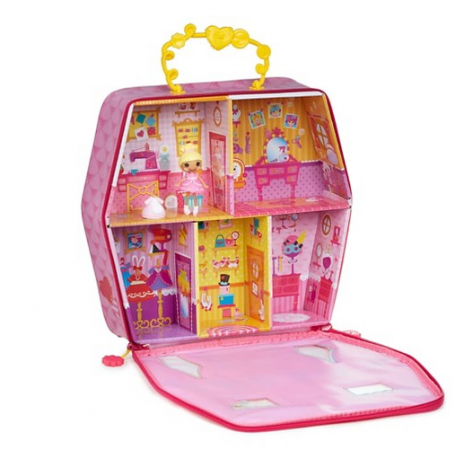 My favorite is the Lalaloopsy Minis Style 'N' Swap Carry Along Playhouse.
Hold the cuteness of Lalaloopsy™ in the palm of your hand. Lalaloopsy Minis™ dolls each come with an adorable pet and fun accessory that fit their personalities.
Lalaloopsy Minis™ Cinder Slippers™ is sew excited to have all her friends over to her new shoppe. Now she just has to decide between her two new dresses for the opening event! The Carry-Along House is wonderful to take your dolls along with you on your travels.  There are 5 diffrent play areas in the house, which makes playtime lots of fun.  It will hold 16 Lalaloopsy Minis, and a handle to make taking them along so easy. It also includes a zipper to open and has front windows.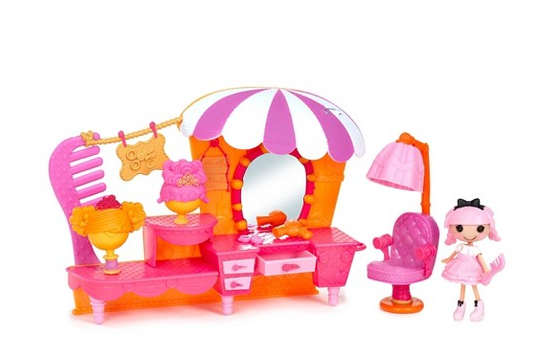 Mini Lalaloopsy Style 'N' Swap Playset- Salon.
Most little girls love to have their hair done, or want to do someone elses hair! Enter Lalaloopsy Minis™ Cherie Prim 'N' Proper™. The saying in this salon is you must always look your best! That's why the Lalaloopsy™ Salon is Lalaloopsy's favorite place to visit. So many wigs and hairstyles to choose from, where will you start?!
In this salon you can customize the styles of the Minis, display and play with your wigs and outfits as well.  The wigs, fashions and shoes are all removeable.
About the Lalaloopsy Line
On July 19, 2010, MGA Entertainment announced the launch of a line of doll toys, Bitty Buttons, featuring eight 13 -inch original rag dolls. Bitty Buttons had the tag line "Sew magical – Sew cute". Each doll character was created with a fictional theme, reflecting the day she was sewn on, the fabric she is sewn from, and her pet.
Isaac Larian, CEO of MGA Entertainment, said, "Bitty Buttons was designed to teach kids that everybody is unique in their own special way. The new brand promotes the idea that old things can become new again, everything can be repurposed and nothing should ever go to waste." According to company press releases, the dolls were, "Designed to encourage a child's imagination and creativity" and "teach important life lessons such as diversity, individuality and the idea that everything deserves a second life."
In November of 2010,the dolls changed from "Bitty Buttons" to "Lalaloopsy" shortly after launch. The Lalaloopsy toy line won the "Large Doll" category in the People's Play Awards ,and was featured the next day on the American television program Live with Regis and Kelly.
You can follow Lalaloopsy on their Social Channels Below:
Facebook | Twitter | Instagram | Pinterest | YouTube | Website