Just Bought A New House? Make It Feel Like A Home
Welcome to your new house.We are sure it is stunning with a brilliant view and a beautiful interior. But you may find, it is still not feeling quite right, even after you have unpacked all your favourite furniture and accessories. Do not worry, you have not made a mistake investing in this property. The problem is that buying a house and moving into it, does not make it your home. Okay, technically it does but it is how you feel that matters. Here are some tips to get rid of that worrying feeling that you have made a mistake moving.
Step 1: Give It A Good Clean
The house should be clean anyway because either it is brand new, or it has just been sold. But this is not about your house being dirty. It is about putting your own mark on the property and making it look and smell the way you are used to is important in doing this. Besides you may find that the previous owner did miss a few spots getting it ready for sale, so a little spring cleaning could not hurt. You want the bathrooms to shine and the living areas to glow.
Step 2: A Lick Of Paint
Again, we are sure the house is painted beautifully because you did buy it, but it may still not be the right colour that you want it. Also, the colors the different rooms are will be the ones chosen by the previous family and you want to make it yours. If you have children, this is a good time to get them involved. Let them choose what colours they would like their bedrooms and let them recommend different colours for other rooms in the house. Once you are finished painting each room and hallway the right shade you will already feel more at home. The house will look brand new and it will feel the way you want it to, but there is more to be done.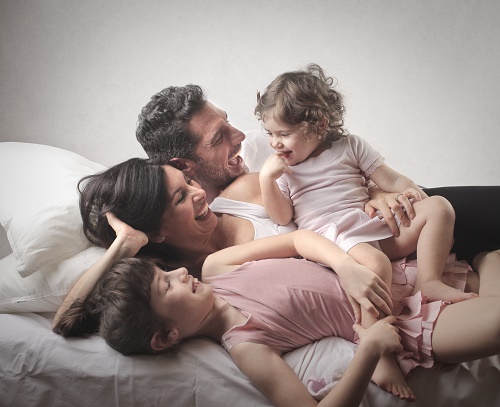 Step 3: New Furniture
Once you have cleaned and repainted the house, you may find that your furniture no longer matches the property. It feels old and out of date. There are two reasons that this might be the case. Either, your furniture does need updating because it was bought a long time ago, or it is attached to memories of your old home. To replaces these memories with new ones you need to replace the furniture. Use a company like Multiyork to research online and find the furniture you want that will accentuate different aspects of each room in your house.
Step 4: Finishing Touches
Your house should be feeling like a home now, but there are a few other little things that will help. You can put up the accessories from your old home. These will give a touch of old comforts and make it feel like the place you used to know. You may also want to buy some new accessories to build up excitement about the new aspects of your home.
Follow these steps and we are sure that you and your family will love living in your new home sooner rather than later.