Teach Kids to Buckle Up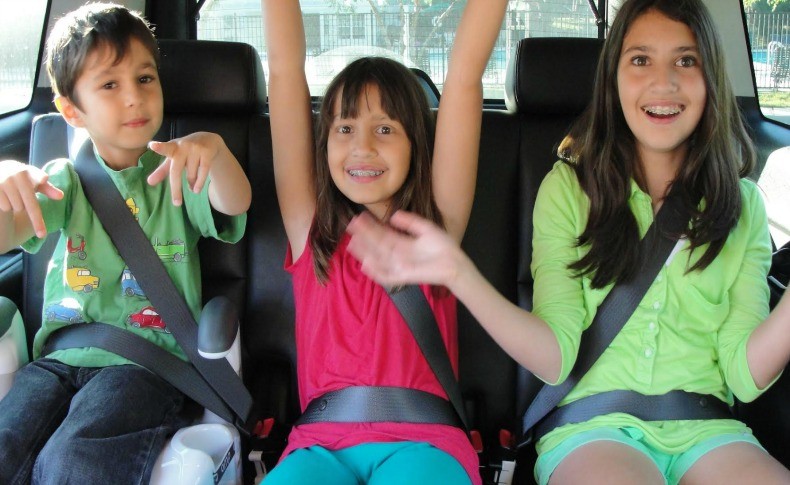 June is National Safety Month – Teach Kids to Buckle Up!
Since we're headed into the busy summer travel season with our families, it's a good time to be reminded of the importance of road safety. According to a study by Safe Kids Worldwide car crashes are a leading cause of death for children in the US, yet 1 in 4 parents confess they fail to properly restrain their kids while driving.  According to the study, 33% of the kids who died in a car crash were unrestrained, that number is staggering when those deaths could have been preventable.  As adults we abide by the "Click it, or Ticket" laws, why then don't we adhere to the "buckle up, every time, on every ride" for our kids?  The study's findings are astounding:
1 in 3 affluent parents with a household income of $100,000 or greater believe it is acceptable to leave their children unrestrained for short distances.  This poses great danger to kids since 60% of accidents involving kids occur 10 minutes or less from home.
Nearly 23% of parents between 18 and 29 are ok letting their kids travel unrestrained when traveling overnight. Yet traveling unrestrained at night makes them more vulnerable to be injured in a crash.
Parents with graduate degrees are twice as likely to let kids go unrestrained because they are in a hurry.  When drivers are preoccupied by schedules or rushing to get to their destination on time they are less likely to be fully attentive while driving, putting them at risk for an accident.
​ Parent's attitudes on buckling up send powerful messages to kids.  Parents need to draw a hard line when it comes to buckling up just like they would for any other dangerous activity like playing with fire or jumping off bridges.  As our streets and highways become more congested with traffic it is vital we require kids to be buckled up in age appropriate safety seats when traveling.
Parents should be sure to lead by example, meaning mom and dad must buckle in every time. Remember parents are role models and kids will model their behavior according to what they see, not just what they hear.  Reinforce the idea that buckling is a family commitment by adding in a fun little activity every time the family gets in the car such as taking turns saying "1,2,3 click" and on 3 everyone clicks.  It will quickly become a tradition!
Teach Kids to Buckle Up
Buckling up starts with the trip home from the hospital and there are no exceptions from that point forward.  Kids learn and will accept that sitting buckled up in a car seat is a way of life. From the time kids are 2 – 3 years old, they can be taught to buckle themselves into their car seat.  Parents should check the buckles to insure they are secure. You might want to consider offering a small treat or reward when kids are initially trying to learn to buckle themselves in.
Once kids grow into a booster seat, strapping into the adult safety belt can be challenging.  Investing in a buckle stabilizer such as MyBuckleMate that props up buckles and prevents them from flopping around or getting caught between the seats can make latching seat belts easier in the back seat.  Encourage kids to have a contest to see who can buckle up the quickest.  Put a quarter in a jar at home each time they buckle up without making a fuss and at the end of the month let them spend their "safety money" on a favorite treat.
Kids are normally between 8 and 12 before standard seat belts fit them correctly. At this age, they may start to balk at sitting in a child restraint, assure them it is to protect them from injury in an accident.  Conduct a standard seatbelt test to determine if they are ready to give up their booster seat.
Their knees should bend a little at the edge of the seat when their back and bottom are snug against the back of the seat.
The lap strap should fit across their thighs and the shoulder belt should fit across their shoulder and chest.
Kids are VIPs so they should ride in the backseat until they are 13
Creating an attitude of safety first will protect everyone in the family.  As kids grow into teenagers and start to drive, we as parents want them to be safe.  Buckling up is the best way to protect them in a crash. Adopting a rule that the car doesn't move out of the drive way until everyone is buckled in will insure full family participation. Ready?  Set. Click!
Meghan Khaitan is a family travel expert and the founder of
MyBuckleMate
. A must-have for carpools and road trips, MyBuckleMate keeps back seat buckles propped up and easy to reach so buckling up is always a snap! No more buckles flopping around, falling into seat pockets, or getting wedged under booster seats–buckles always stay where you can easily reach them. It is the perfect seat belt solution for kids in booster seats, those with special needs or motor planning difficulties, and adults with limited mobility and Arthritis.