Bought Your Wedding Dress Early? Store And Protect It Correctly!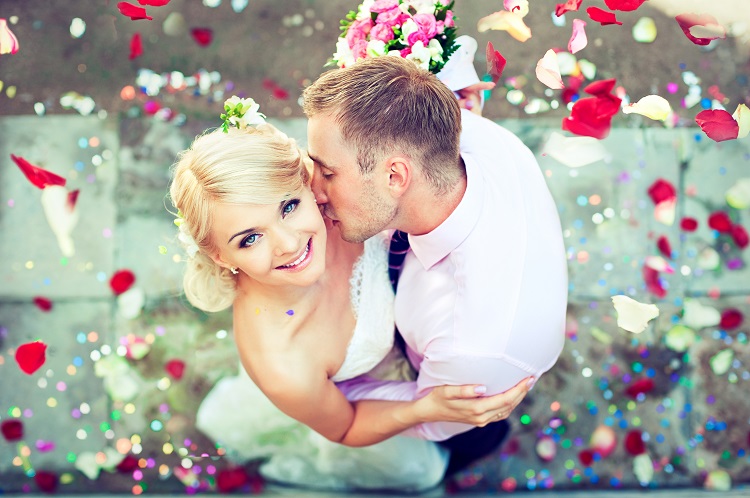 For many brides to be, starting the search for their wedding dress is the most important aspect of their wedding planning. It's the chance to try on countless gowns in fabulous stores and boutiques until they find the perfect one. For some people, it can take months to find their dream dress, but for others, it can take only a matter of days. This can result in them buying their wedding dress months or even years before their big day. It can be beneficial to buy your dress early to give you plenty of time for alterations and fittings. It also gives you the opportunity to take advantage of sale promotions which could help you save some money.
But what many brides fail to consider when they buy their dress early is how they intend to store their dress in the meantime. The way in which you store your wedding dress can have a significant impact on how it looks on your wedding day. If it's stored incorrectly, your gown is more likely to experience damage. This can spoil your big day and leave you with nothing to wear. So to help you avoid this outcome, follow these steps to store your dress and give it the protection it needs.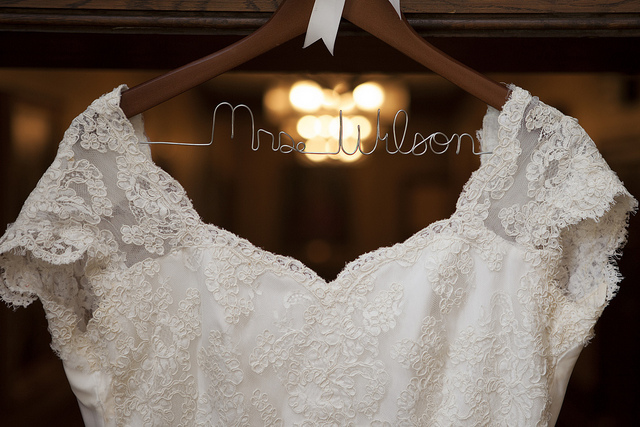 Avoid plastic garment bags
Storing your dress in a plastic garment bag may seem like the smartest storage option. Plastic is waterproof, which can stop your dress getting stained before your wedding and these bags relatively cheap to buy. But in actual fact, this is one of the worst things you can do. Dresses which are stored in plastic bags can become discolored. Especially if they are being stored for long period of time. This may result in your having to have the dress restored and professionally cleaned to return it to it's former glory. But if the discoloration is too intense, you may have to buy a new dress altogether. This outcome can also occur if you choose to hang your dress on a plastic hanger.
This is why it is recommended that you use muslin and cotton garment bags instead of plastic. These are much kinder to your dress and won't encourage discoloration or damage. You can buy these online and from most reputable wedding dress stores. Alternatively, you can use a cotton sheet from home to create your own garment bag. You just need to carefully drape the sheet over your dress and secure with safety pins. Instead of using a plastic hanger, opt for a sturdy wooden option which can withstand the weight of your dress. For more guidance on the best way to store your dress, contact either the boutique or the designer of the dress.
Choose your storage location carefully
The location where you choose to store your wedding dress needs a lot of consideration before you bring it home from the store. It should be hung up somewhere where it has room to breathe and not in an overfilled closet. There should be no sharp objects nearby which can snag the material, and the environment needs to be dry. Never store your dress next to water pipes, boilers or anywhere where it can sustain water damage. Water can ruin your dress if it is submerged for a long time. Take each of these things into consideration to ensure you choose the perfect place to store your dress before your wedding. You may find that you need to make room or invest in a temporary storage solution to accommodate your dress.
It's also important to remember that wedding dresses are notorious for being flammable. If they are placed too closely to fire hazards such as candles or fireplaces, their light fabric can quickly catch fire. This can cause immense damage not only to the dress but to your home too. This will be a devastating event for you to experience before your big day. So it's vital that your dress is not located to any hazards which could cause it to go up in flames.
Even though your dress might be kept away from fire hazards, fires can still occur in your home. So you might also want to consider getting a security system installed too. These systems can quickly alert you of fires, which can help you limit how much smoke damage is caused. This can protect your home and belongings including your dress. Read alarm reviews about the simplisafe security system and other models online or ask an expert to assist you in choosing the best option.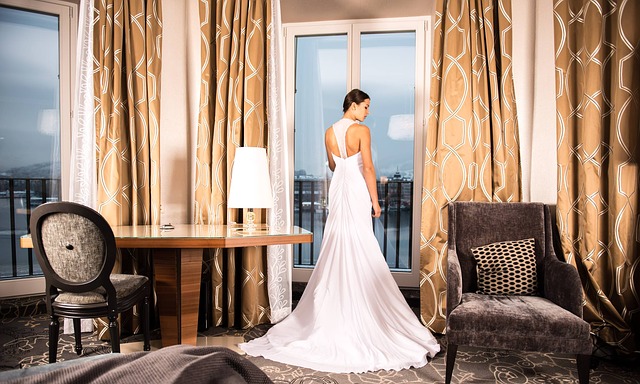 Try on with care
As you have bought your dress early, it's important to check on your dress regularly. This will help you spot any possible issues before they become more severe. You will also need to try on your dress at least a month before your big day to check that it still fits perfectly. This is something you will no doubt be excited and thrilled to do. However, this is an activity that needs plenty of planning and preparation beforehand. You need to ensure that the environment where you try on the dress doesn't contain food or wine. These can be easily spilt onto the dress causing difficult stains which you may not be able to remove. Wearing makeup and fake tan can also result in staining on your dress before your big day.
It can also be advantageous to remove furniture with sharp edges from the space too. Your dress can easily get snagged and damaged on these items as you walk past. Never try your dress on alone as this can lead to accidental damage too. Ask one of your bridesmaids to help you to ensure no rips or tears occur. If you don't feel comfortable trying on your dress at home, contact the boutique. They may be able to arrange a fitting for you and help you protect your dress throughout too. If this sounds appealing, look online for advice on how to transport your gown safely, for additional protection.
So even if your wedding is still a long way away, these storage tips will ensure your dress still looks it's very best. Don't forget to find out how to store and preserve your wedding dress after your big day is over too. That way it can continue to give you happy memories for decades to come.