MERIDETH GRACE PUCKETT RELEASES NEW "PERFECT WORLD" SINGLE & ACCOMPANYING VIDEO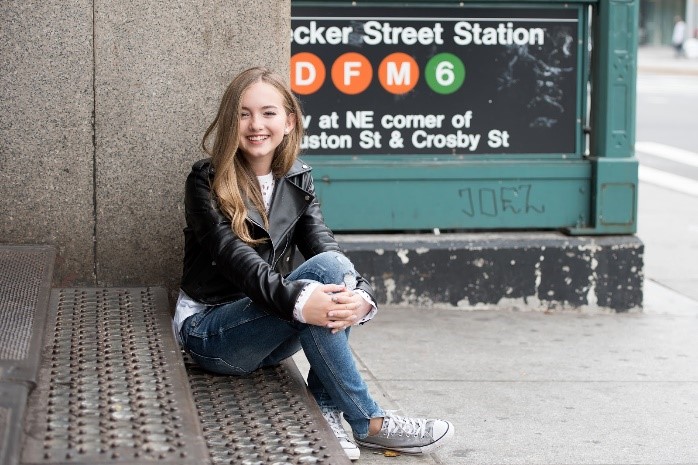 Following Her Recent Trip to NYC, The 13 Year Old Star–Whose Sensational Cover of Adele's "Rolling In the Deep" Brought Her Worldwide Acclaim with Over 20 Million YouTube Views and A Spot on Germany's "Superkids"–Releases First Original Track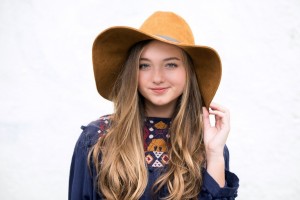 Having recently returned from a trip to NYC spreading her incredible vocal talents to the East Coast, young singer Merideth Grace Puckett is continuing to bring her star power to new heights with a brand new single and music video titled "Perfect World". Winning over fans across the globe this past summer performing on Germany's "Superkids" TV show, Puckett then headed towards the bright lights of Hollywood, shooting her newest video on the world famous Sunset strip, and continuing to showcase her incredible voice and creative outlook.
With a poise that belies her age, the newcomer is generating a booming buzz that has people talking about the little girl with the big voice. At only 13 years old, Merideth sings with an emotion people twice her age can rarely articulate in a song. The Paris, TX native's soulful vocals transport a listener to another world, so it's no surprise that top producers and managers are clamoring to work with her. The Huffington Post wrote, "Look out, Music City. Pretty soon, you might have another incredible voice on your hands" and they couldn't be more on the money.
When a friend recorded Meredith singing Adele's "Rolling In The Deep" in the kitchen, she wasn't expecting to gain over 20-million views. "I was shocked! I was expecting maybe 100 people to hear me sing; we went to sleep that night and it was already at 11,000 views. It was amazing!". The viral video caught the eye of someone in Merideth's church who reached out to a guy in Nashville. That 'guy' was Grammy-Award winning producer/writer Aaron Pearce, who has worked with Celine Dion, Justin Bieber, Boys II Men, Jill Scott, Jennifer Lopez, Ricky Martin and Willie Nelson, just to name a few. Flying to Nashville with her parents, Merideth met with Aaron, who not only wanted to work on music with her, but also introduced her to Global Entertainment Management's Jerry Blair, who ended up as her Manager.
WATCH: Merideth Grace Puckett "Perfect World" Official Video
Meredith has grown up surrounded by song and was exposed to a range of different flavors from a young age. Her grandfather arranged and performed all the music for the Parish. Her mother and two younger sisters sing, and her Uncles play, write and perform music. Even though Merideth didn't know exactly what it meant, she announced to her parents she wanted to be a singer when she was 6, absorbing and studying the sounds of Adele, Carole King, Aretha Franklin, Whitney Houston, and Hall & Oates.
While she has the singing part down pat, Merideth has begun to work on her songwriting, learning guitar so she can accompany herself. "I've written a bunch of melodies and have started to keep a diary so I can focus on what I am feeling. When I start writing lyrics, I want people to connect with me personally."
As she develops as an artist, Merideth is also becoming a fan favorite, building a strong teen following on social media. "It's really cool. I like to write back to the people who comment on what I post, and I try to put up a new video on YouTube every few weeks. It's hard for me to believe I get to do this, it's like living in a dream."
So where does young Merideth Grace Puckett see herself in five years? "Oh, still making music! When I sing, I feel like I am in my own world". And with new single "Perfect World" she brings that world to light through an incredibly catchy pop-driven tune which explores the often harsh realities of life, as well as our powerful ability to overcome. Puckett sings "It's funny how everything can cloud up and quickly start to rain on your parade, and all you can do is stand there and get wet // And it's crazy how the plans you make so easily seem to break, and all you can do is pick up the pieces shattered on the floor // But wouldn't it be great if this was a perfect world?" as she explores the streets of LA and beautiful West Coast beaches. She continues "A perfect world where we have all the answers // A perfect world where everything went right // A perfect world where all the roads seem to go your way // Wish on a star, but this ain't no perfect world of ours" revealing the blunt truth of how we're often "spending our time to prevent things that don't exist".
And though this world may not be quite as perfect as we may often want it to be, the unbelievable talent that shines through young Merideth does make a whole lot more bearable!
For More Information on Meredith Grace Puckett, Visit:
Twitter: @MeridethGrace22
For Press Inquiries, CONTACT: Rick Eberle, Rick [AT] RickEberle.com